FEELWORLD/ SEETEC show the new 4K monitor at China-Arab States Expo 2017
2017 China - Arab State Expo was held in Yinchuan, Ningxia from September 6 to 9, 2017. The theme of the exhibition is to keep abreast of the theme of "inheriting friendship, deepening cooperation and common development", focusing on the strategy of "pragmatic, innovation, linkage and win-win". It is closely linked with the strategy of "the Belt and Road Initiatives", highlighting the role of national platform and serving the enterprise building an important platform.
The exhibition from Egypt, the United Arab Emirates and more than 40 countries and regions, nearly 5,000 exhibitors, involving transportation, high technology, specialty consumer products and other fields.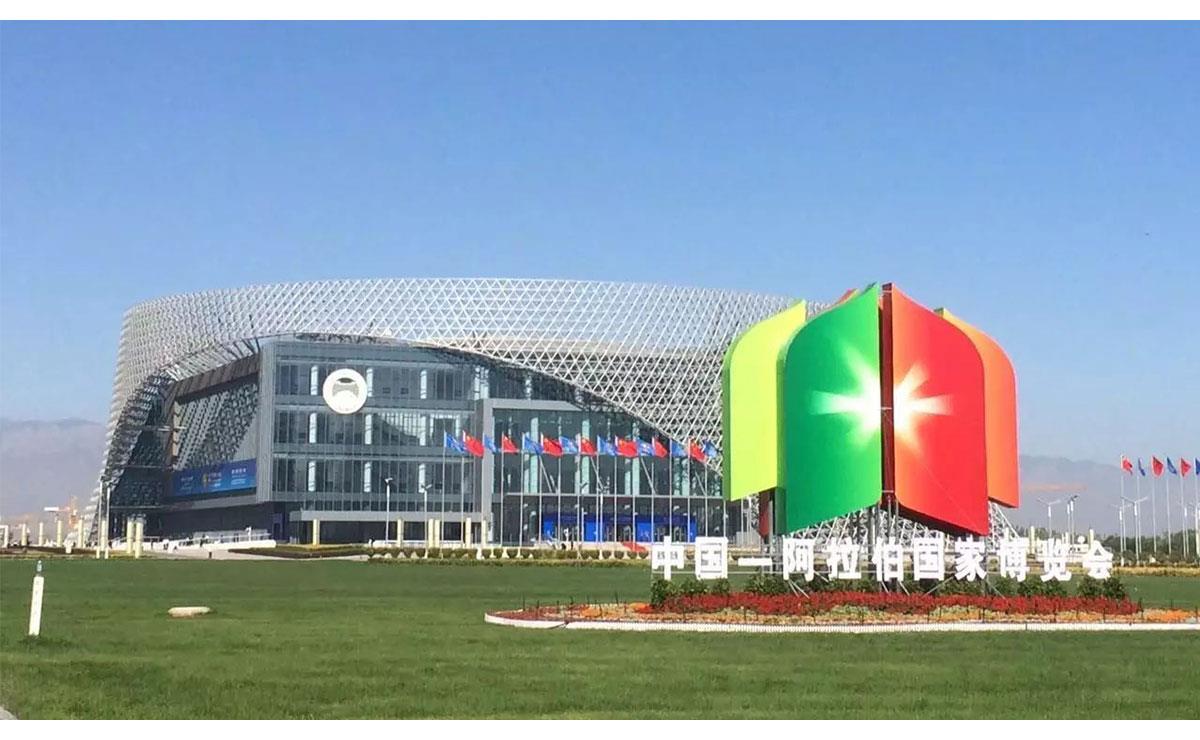 FEELWORLD & SEETEC booth H hall 1078 attract a large number of customers come to experience the products.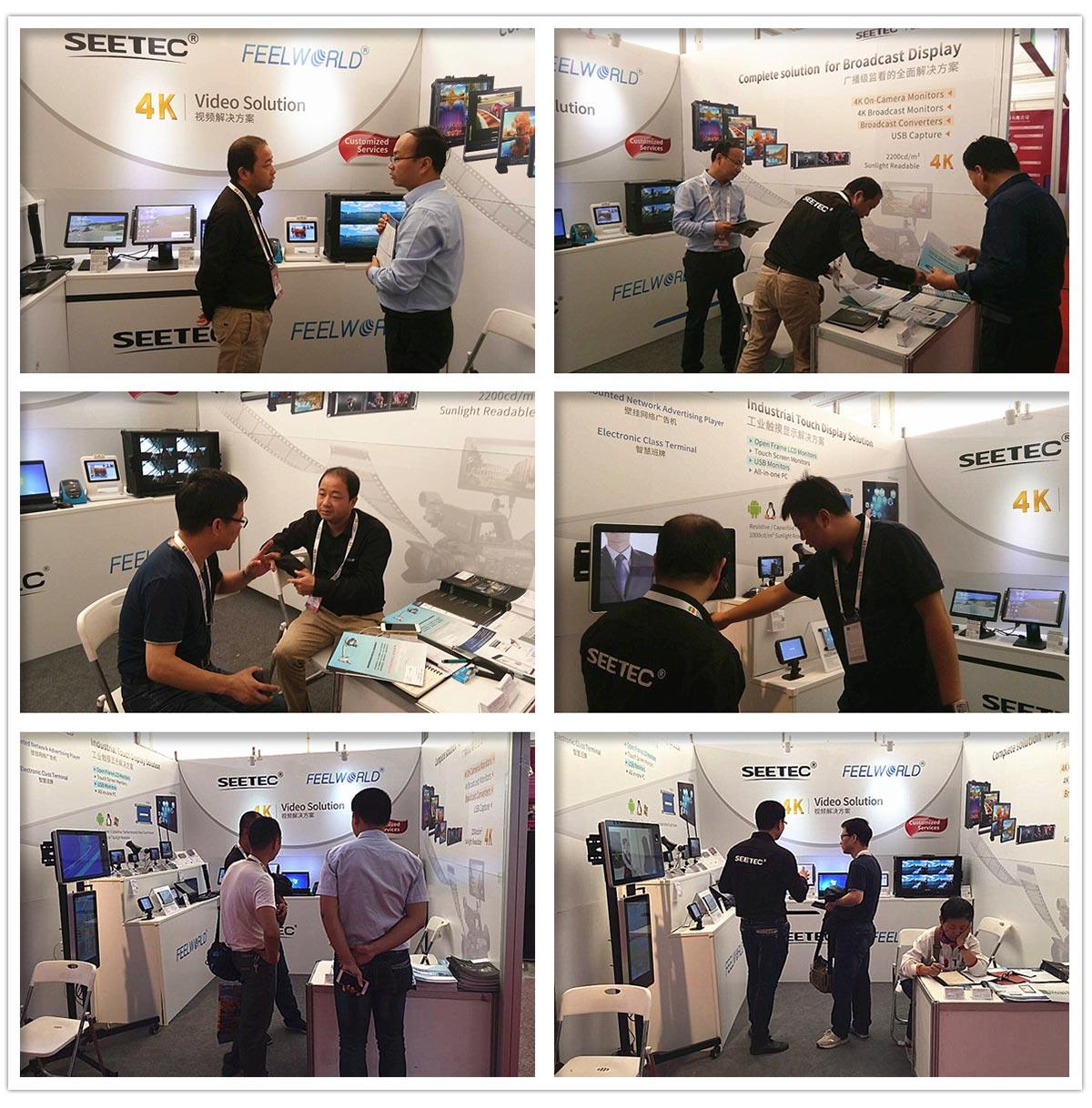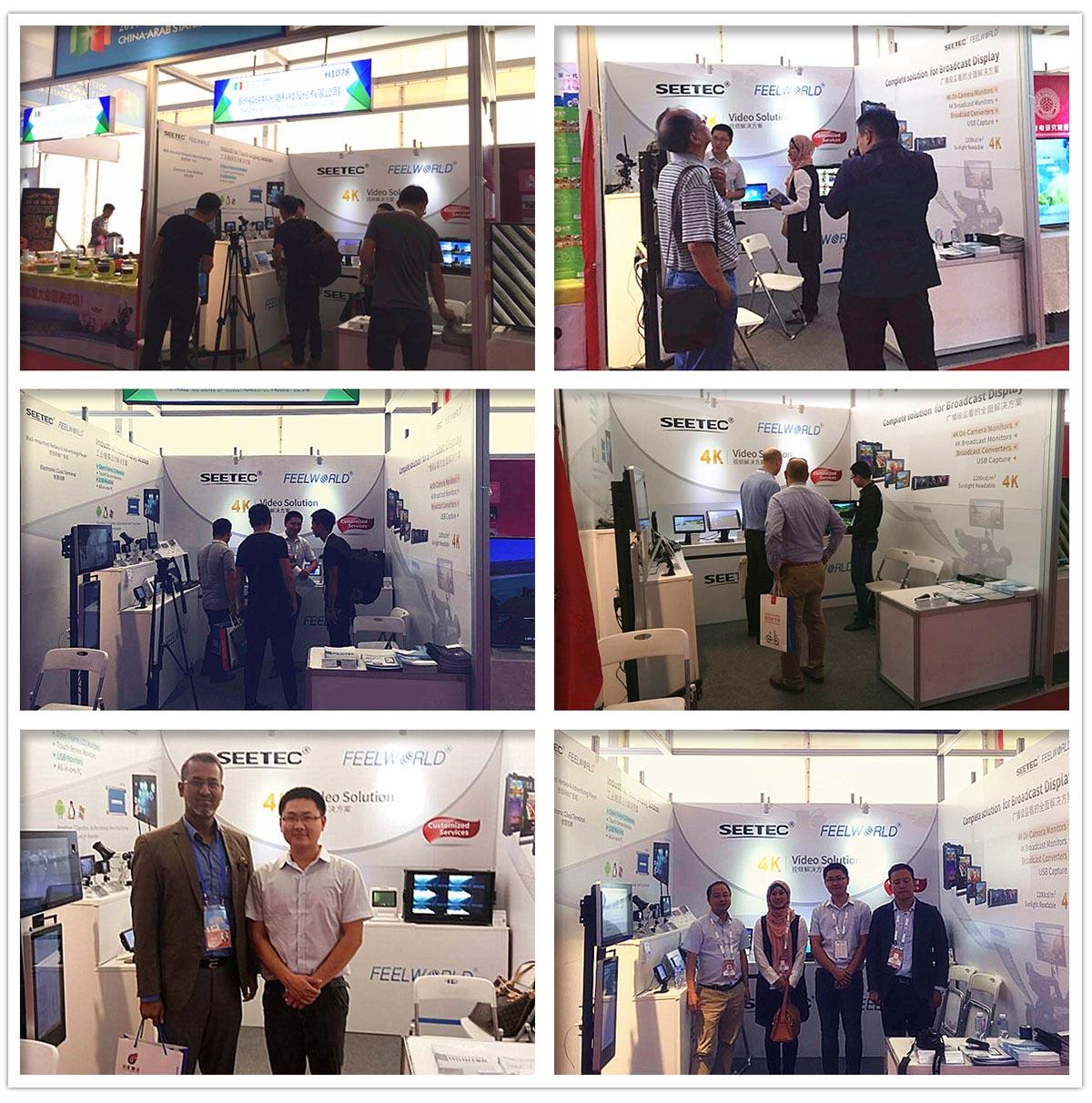 Now let's review FEELWORLD and SEETEC booth H hall 7018 wonderful products show .
FEELWORLD / SEETEC displayed the 4K Broadcast LCD Monitors, 4K On-camera Monitors, Rack Mount Monitors, Industrial Touch Screen Monitors, USB Monitors, Open Frame Embedded PCs, Broadcast Converters, USB Capture, Network Advertising Player, Electronic Class Terminal, provides a comprehensive solution for broadcast monitoring, industrial touch display, financial LCD screen.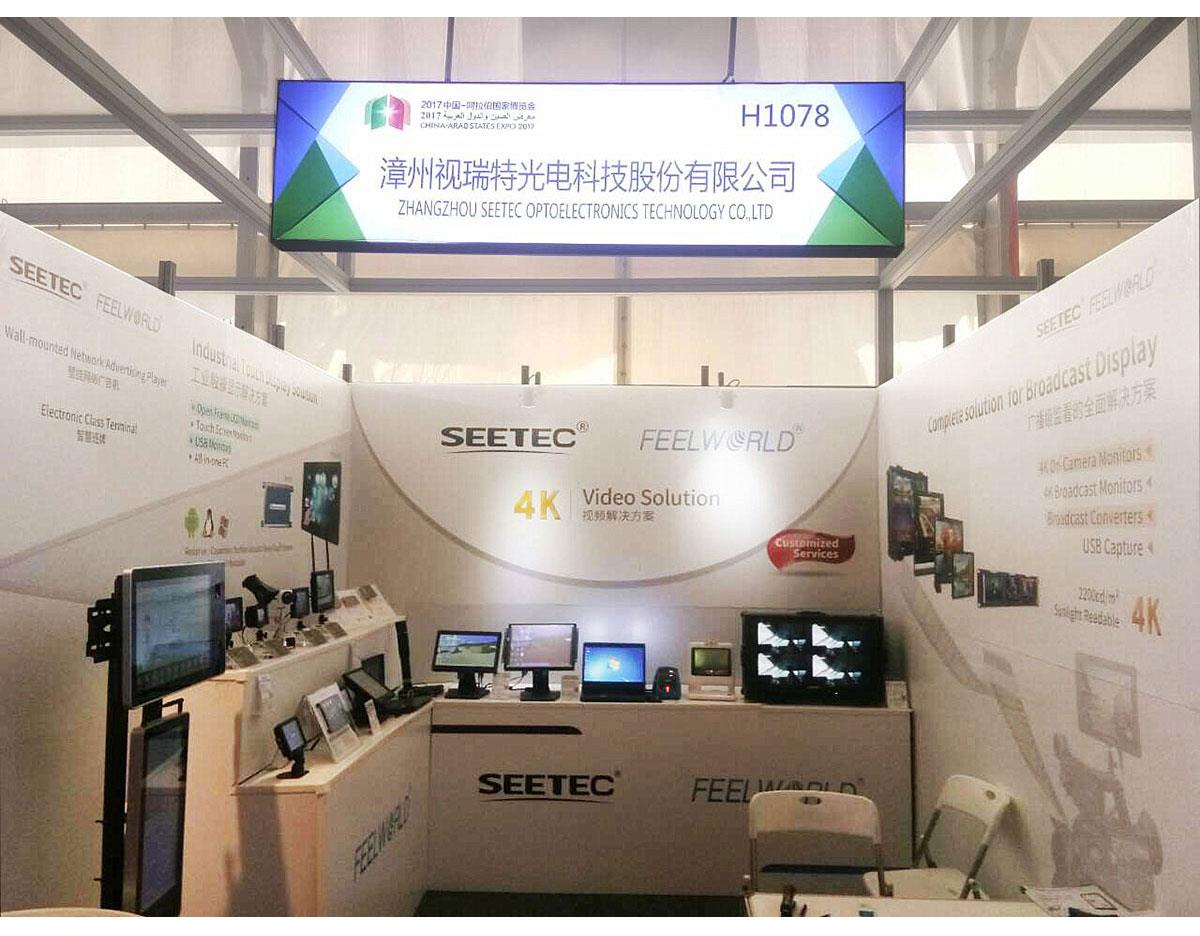 4.5"/ 5.5"/ 5.7"/7"/10.1"Multi-size optional
FEELWORLD 4K on-camera monitors with full HD 1920x1080, 1920x1200, 2560x1600 precise color, IPS wider view angle to fuel your creative flow.
New Product Features Highlight Introduction.
S350 Electronic View Finder design for cinema.
F7S with 3G-SDI, 4K HDMI input/ output.
FH7 4K HDMI input/ output, portable Light compatible for Steadycam, DSLR Rig, Camcorder Kit, Handheld Stabilizer, Video Camera Crane.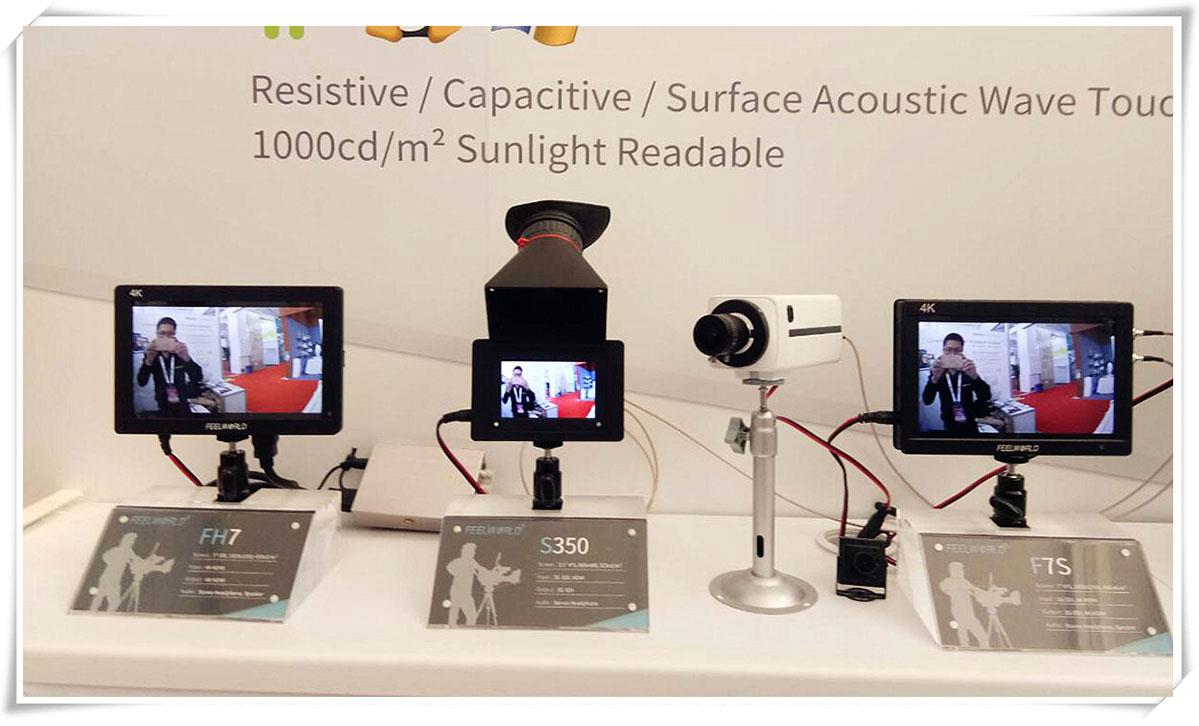 15.6" /17.3" /23.8" /28" Multi-size optional
SEETEC 4K Monitors with ultra HD 3840X2160 resolution, brings unbeatable image clarity in cinematic display, allows you to see every pixel, with 4x 4K HDMI input, 3G SDI input/ output, portable carry-on suitcase high efficency operate for film crews. Using quad split display and picture in picture effect to superimpose a commentator when covering events such as sports, training videos, interviews and even gaming competitions.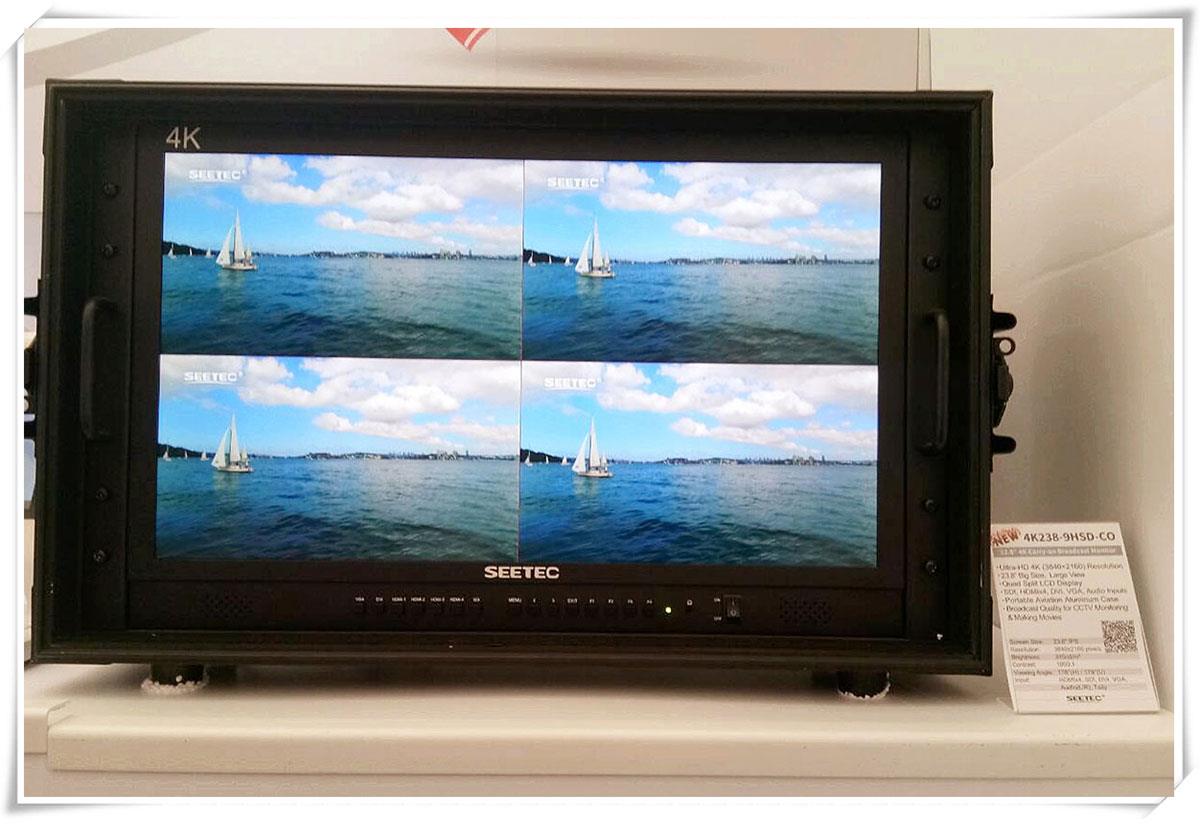 Multi size optional, customized services.
FEELWORLD open frame monitor, industrial all in one embedded PC, touch screen monitor and USB monitor with advanced technological visual imaging and computing systems, support industrial, military, transportation, advertising and medical customers application.
PF133-9CT uses projected capacitive touch technology, 10-point touch, support window7/8/10/ Android system, built scratch resistance glass is essential for touch solutions. Featuring IPS LCD screen technology, it offers exceptional color performance and wide viewing angles, making it a perfect interactive display for interactive digital signage.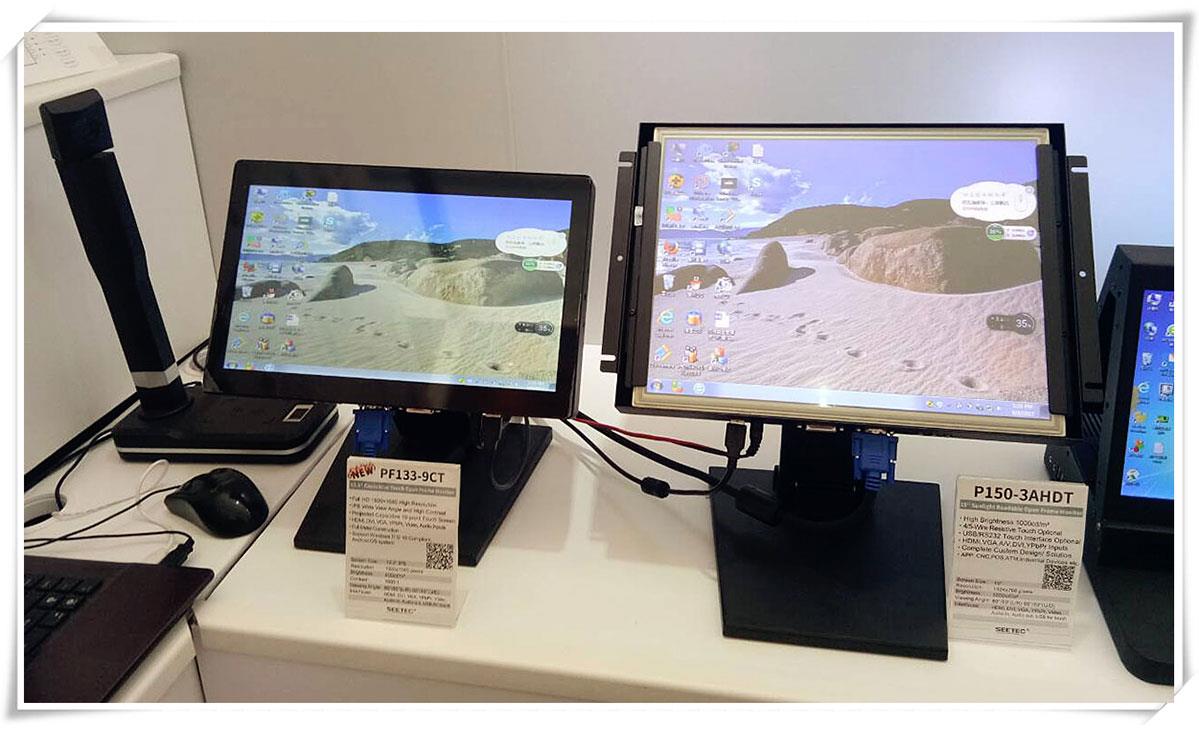 FELWORLD touch monitor portable design , 4/ 5 wire resistive touch screen optional, very suitable for use in cars and boats as VGA, VCD, DVD and GPS player. Widely used in offices, apartments, home, ATM, automation equipment, computer games, kiosks, transportation, military, oil and gas and energy, retail and other suitable occasions. It's convenient, safe and space saving when you using the FEELWOELD touch screen monitor.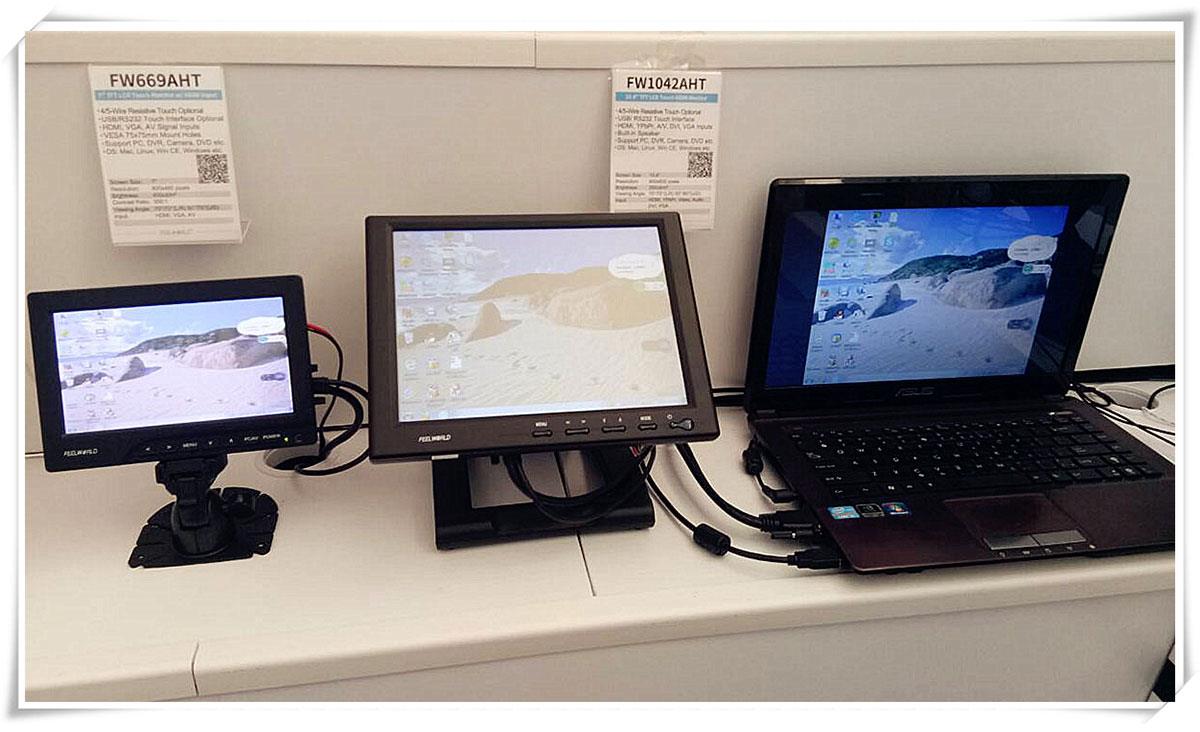 FEELWORLD industrial all in one embedded PC are reliable, durable, It will be your best choice. Our industrial touch screen panel PC computers are designed for industrial, process manufacturing, industrial automation, building automation, process control, machinery manufacturing, and custom machine to machine interface applications.
It is a highly performance embedded industrial control device ,It have 3 operating system optional : Windows CE 6.0 , Linux and Android. With features of rich resource, interfaces, low consumption and high reliability, etc.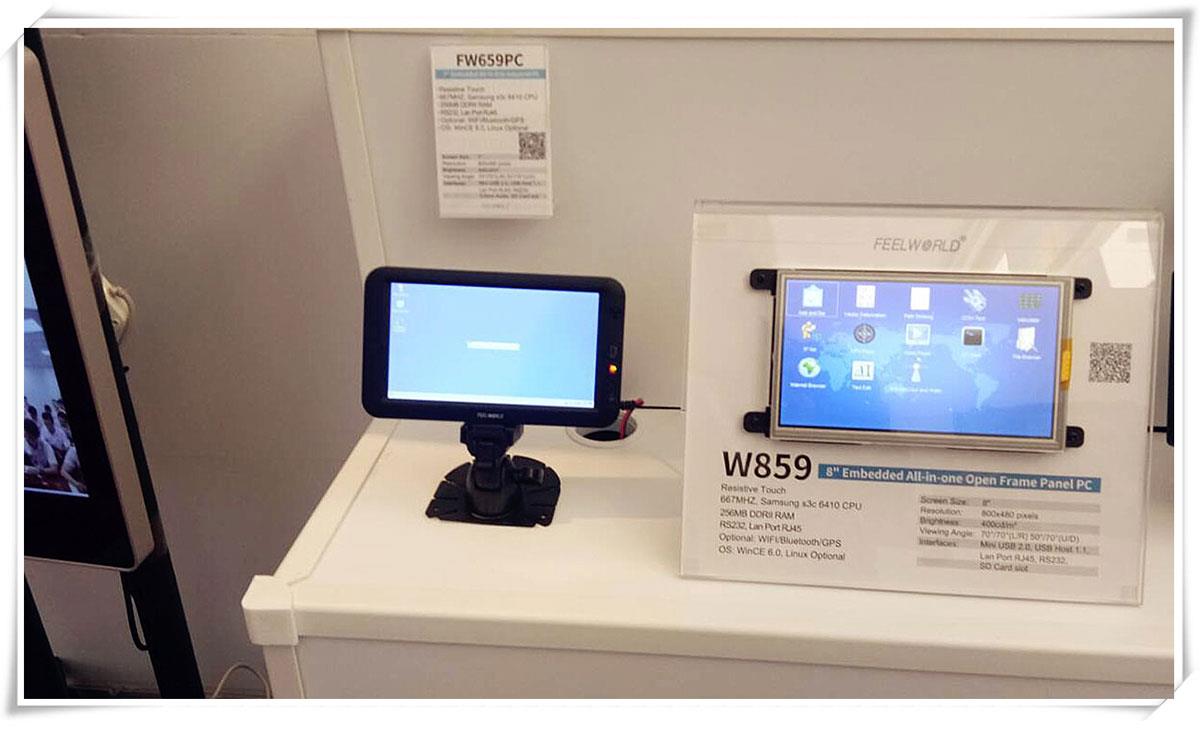 Digital Signage advertising Display
We also show the 19.5-inch digital signage advertising display. Its support for mobile phones, computers, flat panel remote management, support vertical and horizontal screen free rotation switch, variety layout arbitrary split screen, support a variety of format files to meet a variety of use scenes.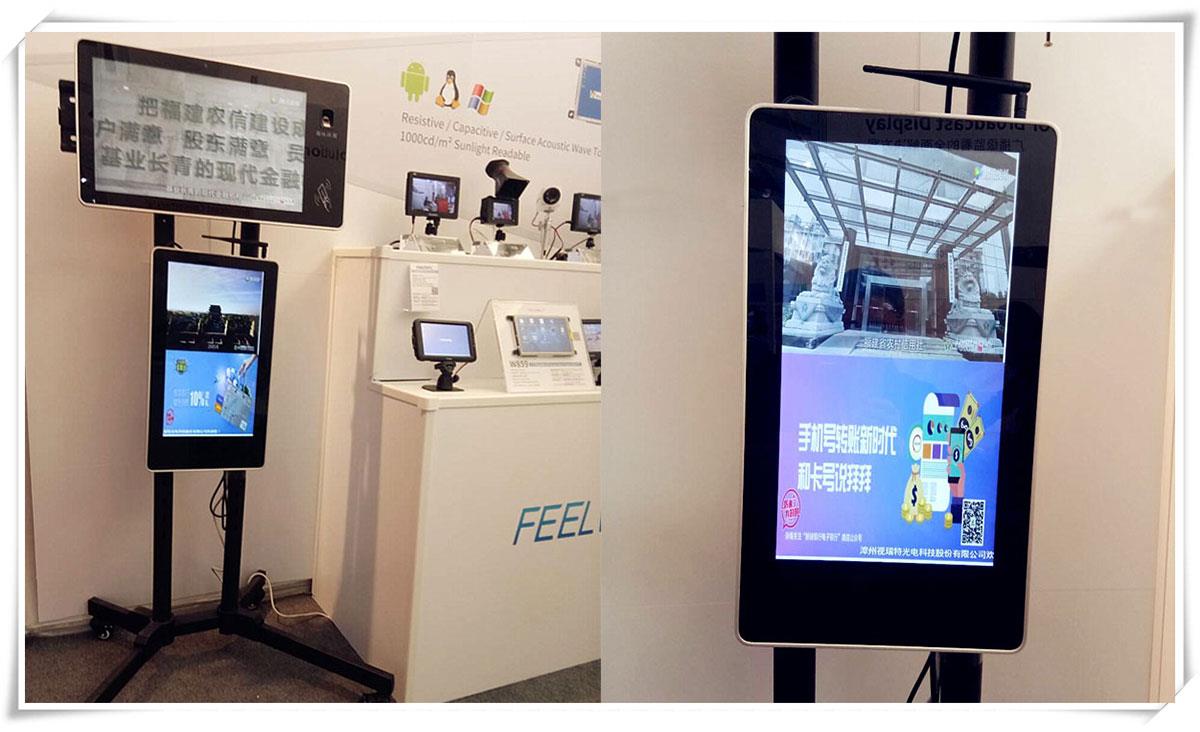 Dual-screen High-definition Visitors Machine
13.3-inch LCD touch (optional) operation main screen, 10.1-inch LCD display vice screen, with a second generation ID card information input, IC / ID regular visit card fast registration, visitors registration management, Visitors take pictures of information retention, One key to connect the respondents to confirm the visitors and other functions, but also equipped with high-speed industrial hard drive 500G. Simple, powerful, so that visitors do not have trouble with registration management.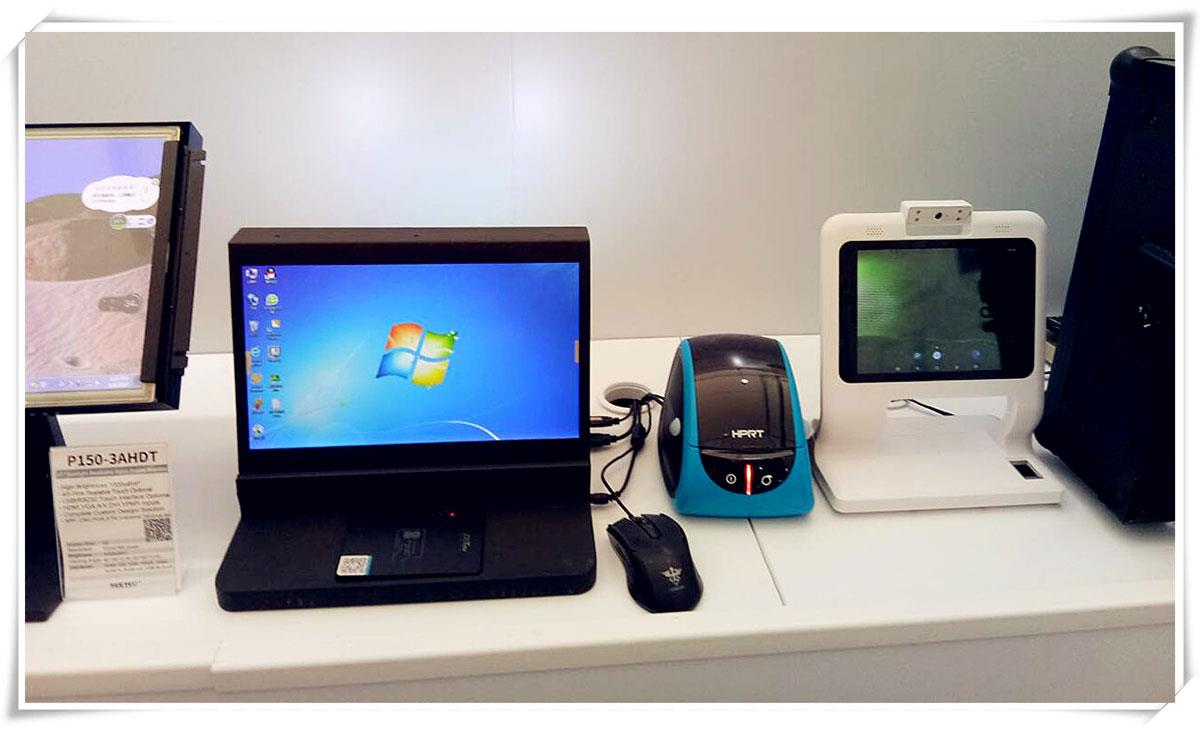 At last, thanks the FEELWORLD / SEETEC warm reception of customers at 2017 China - Arab State Expo.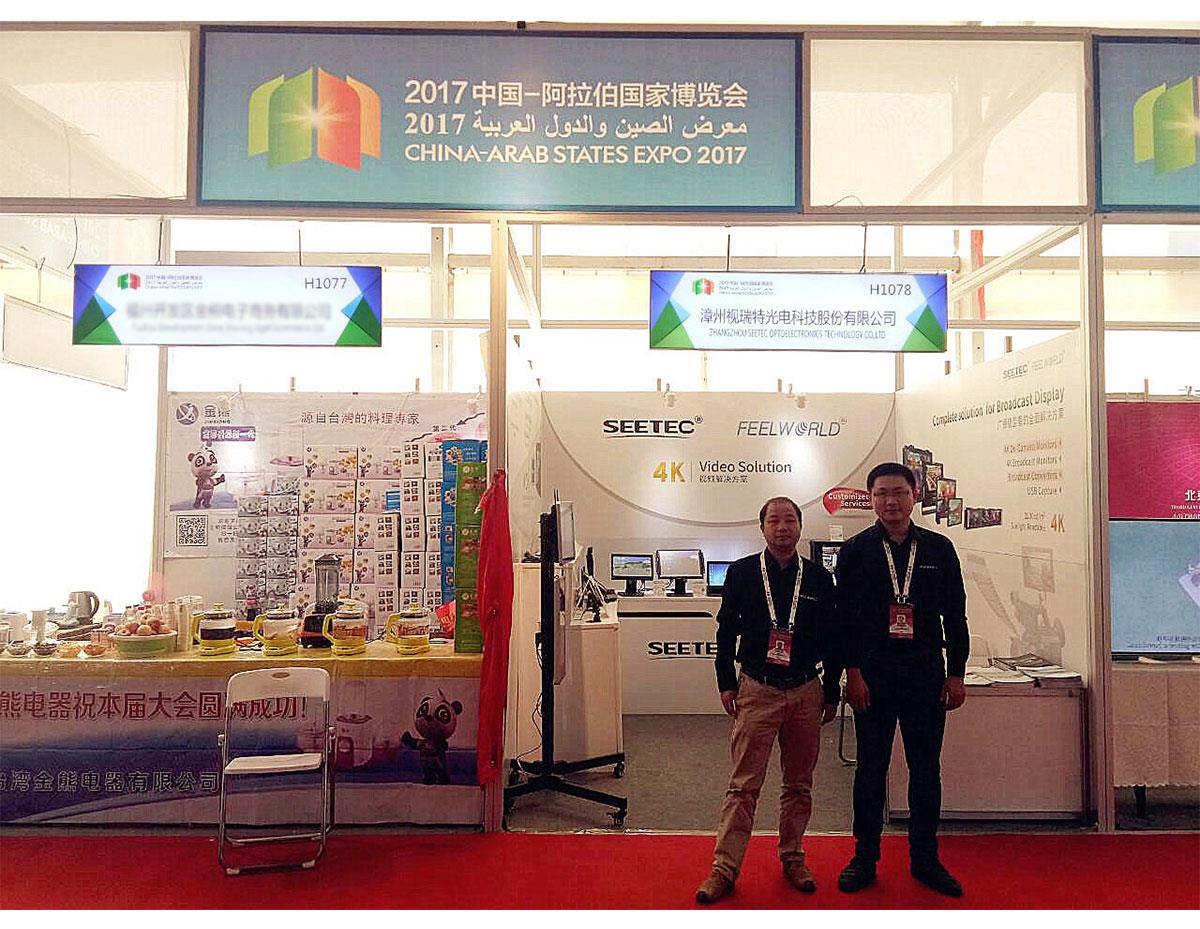 FEEKWORLD & SEETEC team thank you for all client support, see you at next China - Arab State Expo.
More detail view: