SEETEC & FEELWORLD will carry stabilizer monitors, wireless monitors to attend exhibitions 2018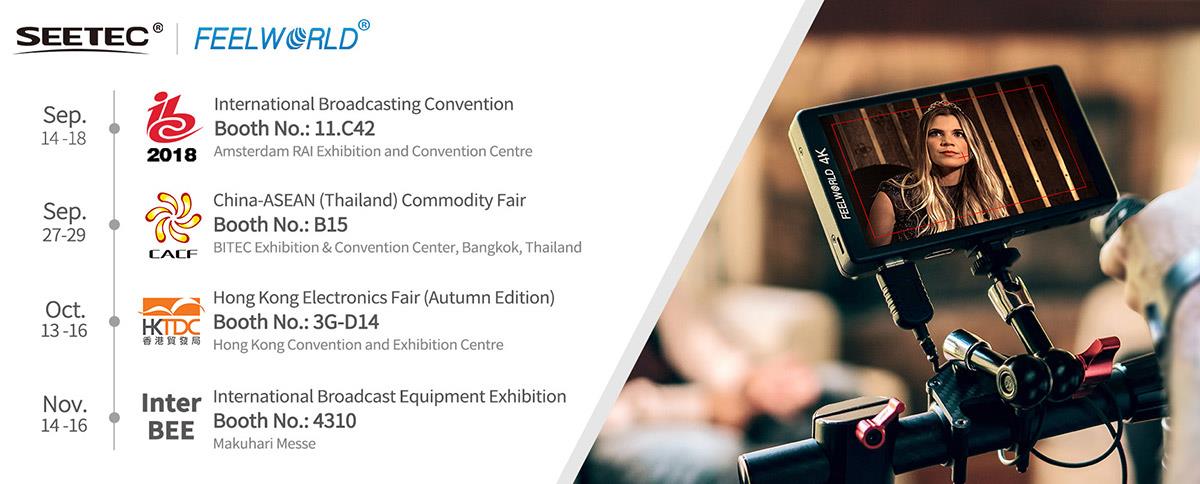 Exhibition: International Broadcasting Convention (IBC 2018)
SEETEC & FEELWORLD Booth NO.: 11.C42
Date: 14 - 18 September 2018
Venue: Amsterdam RAI Congress Centre, Netherlands
Exhibition: China-ASEAN (Thailand) Commodity Fair (CACF)
SEETEC & FEELWORLD Booth NO.: B15
Date: 27 - 29 September 2018
Venue: BITEC Exhibition & Convention Center, Bangkok, Thailand
Exhibition: Hong Kong Electronics Fair (Autumn Edition)
SEETEC & FEELWORLD Booth NO.: 3G-D14
Date: 13 - 16 October 2018
Venue: Hong Kong Convention and Exhibition Centre
Exhibition:International Broadcast Equipment Exhibition
SEETEC & FEELWORLD Booth NO.: 4310
Date: 14 - 16 November 2018
Venue: Makuhari Messe
We will carry our two brand monitors: FEELWORLD and SEETEC. We will bring a wealth of product display for this exhibition. It mainly includes 4K HDMI On-camera Monitors, SDI On-camera Monitor, 4K Monitor, Production Monitor, Wireless Monitor, Rack Mount Monitor, Teleprompter, Wireless Transmission System, USB Capture, Broadcast Converters and so on. This exhibition focuses on the 4K small on-camera monitors that specially designed for stabilizer and All-in-one wireless monitoring solution .
New 5-5.5" Stabilizer Monitor
This year, we focus on creating 5-5.5-inch 4K Field Monitors, designed specifically for handheld stabilizers. The OLED panel enables precise color reproduction and true black reproduction with extremely accurate and wide color gamut. 1000nits high brightness, so you can shoot in the sun. It also comes with a dual-purpose battery plate compatible with the Sony F970 and Canon LP-E6 batteries, and supports DC 8.4V power output for DSLR or mirrorless camera power supply.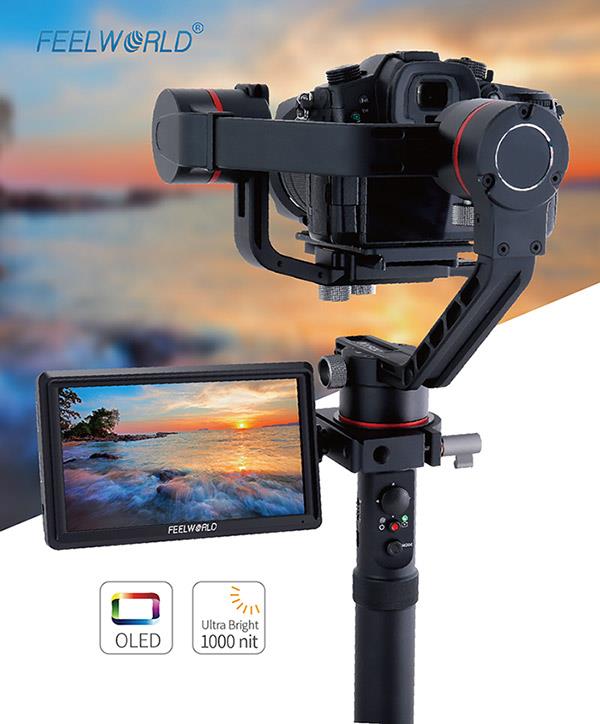 All-in-one Wireless Monitoring Solution
The SEETEC TR721-Tx and TR721-Rx are a set of director monitor solutions for use. TR721-Tx 7" daylight viewable monitor with built-in wireless HD transmitter, with sharper 1080P image quality and 2200nits brightness for easy outdoor shooting during the day. TR721-Rx 21.5" high quality monitor with wireless HD receiver, also has a sharp 1080P quality, very suitable for director monitoring. The combination of the two allows you to avoid the cables, which is very suitable for directors and camera assistants.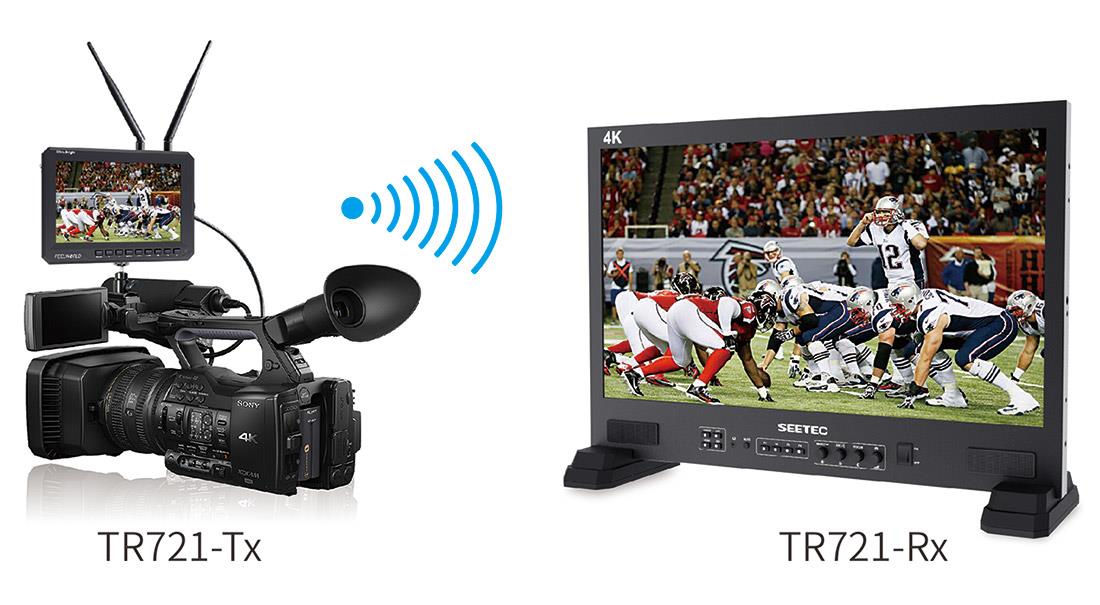 In view of how strong the function of SEETEC & FEELWORLD exhibits is, let us wait and see at the exhibition. The whole process of the exhibition is 4 days, please arrange the time reasonably, SEETEC & FEELWORLD is looking forward to your visit!