The International Broadcast Equipment Exhibition (Inter BEE 2018) Second Change Fans Meeting
From November 14th to 16th, 2018, The International Broadcast Equipment Exhibition (Inter BEE) was held in Makuhari Messe Exhibition Center in Chiba Prefecture, Japan. The exhibition is the only professional exhibition in the broadcasting and television industry in Japan. It has been held for 53 times. It enjoys a high reputation among professional users in related industries. Inter Bee is also positioned as a global radio and television professional exhibition with NAB in North America, IBC in Europe, and KOBA in Korea. The exhibition area of this year's Inter BEE exhibition covers an area of 50,000 square meters, attracting broadcast media equipment manufacturers, related service industries, and content business related personnel from more than 30 countries around the world.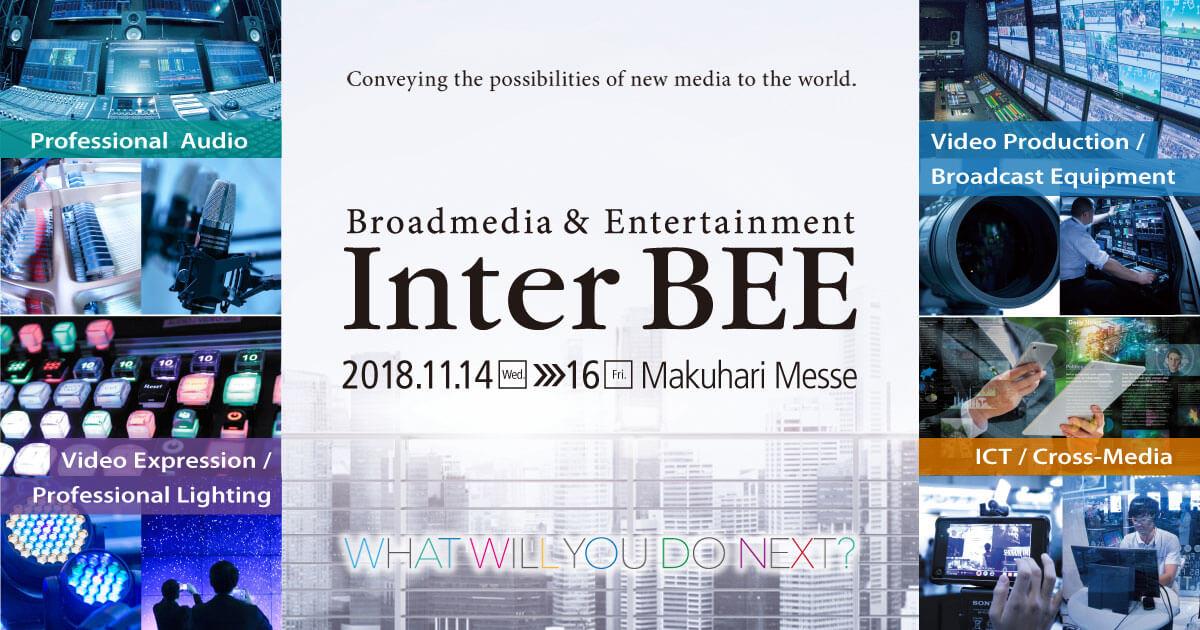 FEELWORLD&SEETEC will bring a number of products to the event for the first time (FEELWORLD&SEETEC Booth No.: 4310) to provide users with professional monitor solutions. Among them, including 4K HDMI monitor, SDI monitor, ultra bright monitor, 4K broadcast monitor, wireless monitor, wireless transmission system, SDI distribution and so on.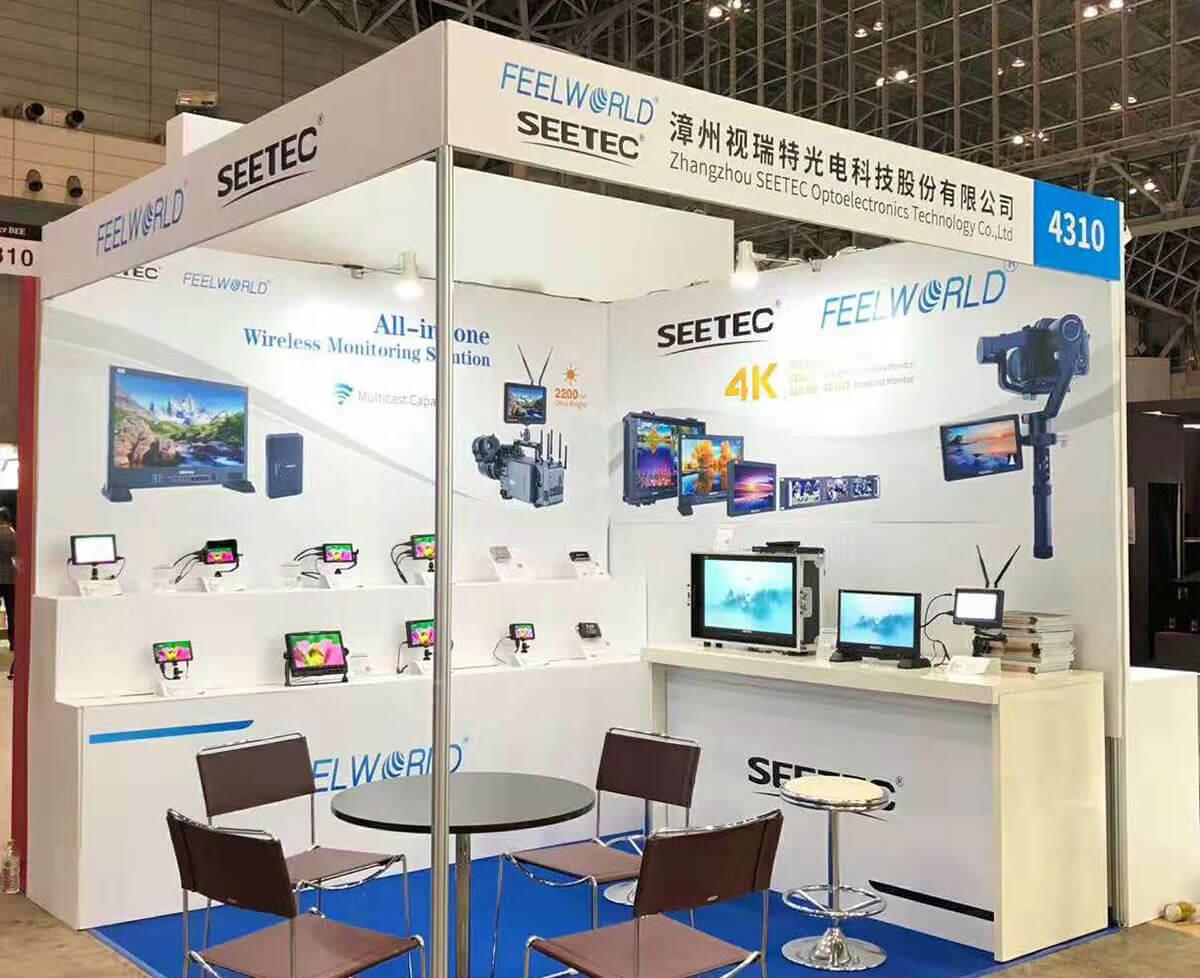 SEETEC & FEELWORLD Booth
Although it was the first time to participate in Inter BEE 2018, during the exhibition, in addition to the new users who came to visit the exhibition, there were a lot of fans who loved FEELWORLD & SEETEC monitors. This booth is more like a fan meeting.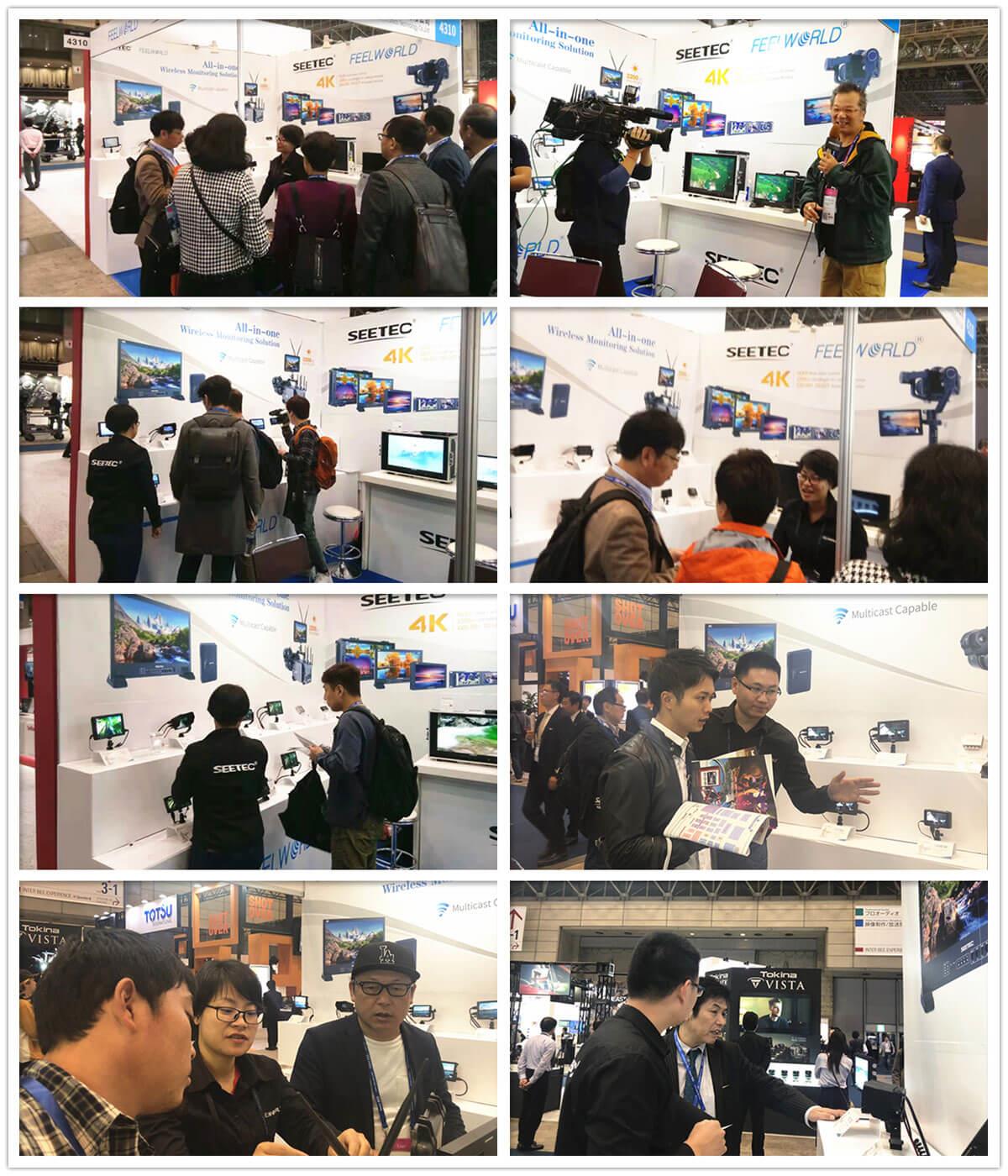 Then let's take a look at the popular FEELWORLD&SEETEC monitor.
5-5.5 Inch Ultra Light Field Monitor
.1080P sharp image, ideal for focus pulling and image analysis
.Compact and portable, easy to use with stabilizers, DSLR / Mirrorless camera
.Equipped with tilt arm, 360° rotation, adjust viewing angle at any time
.Dual-use battery plate, F970 series and LP-E6 battery can be replaced at will
.4K HDMI input and loop-out interface for real-time monitoring and simultaneous loop out
.DC power output for powering DSLR cameras or Mirrorless cameras
.Various photographic functions such as histogram, peaking focus, embedded audio, and false color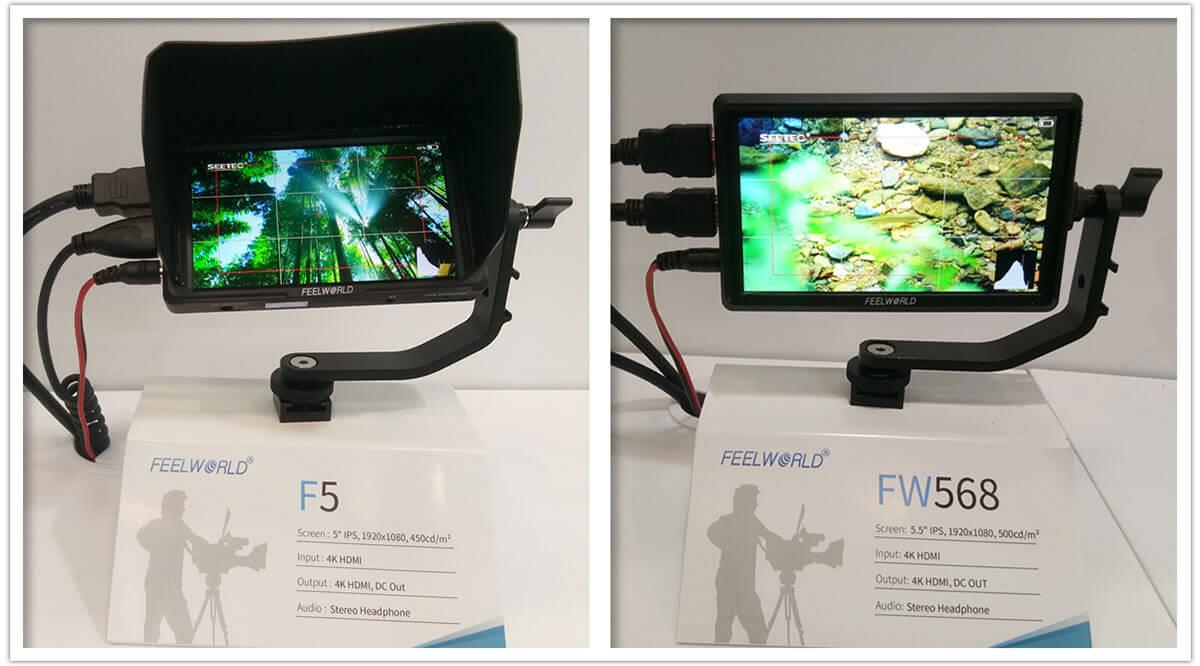 7" 2200nit Super Bright Monitor
.1920x1200 resolution for true color and sharp, clear images
.2200nit brightness, clearly visible in the sun, outdoor shooting weapon
.3G-SDI and 4K HDMI inputs for professional and consumer cameras
.3G-SDI and 4K HDMI loop out, synchronous output to other equipment monitoring
.VESA 75mm mounting holes for mounting on iron brackets or walls
.DC input port and F970 battery plate two power supply modes
.Various photographic functions such as histogram, peaking focus, embedded audio, and false color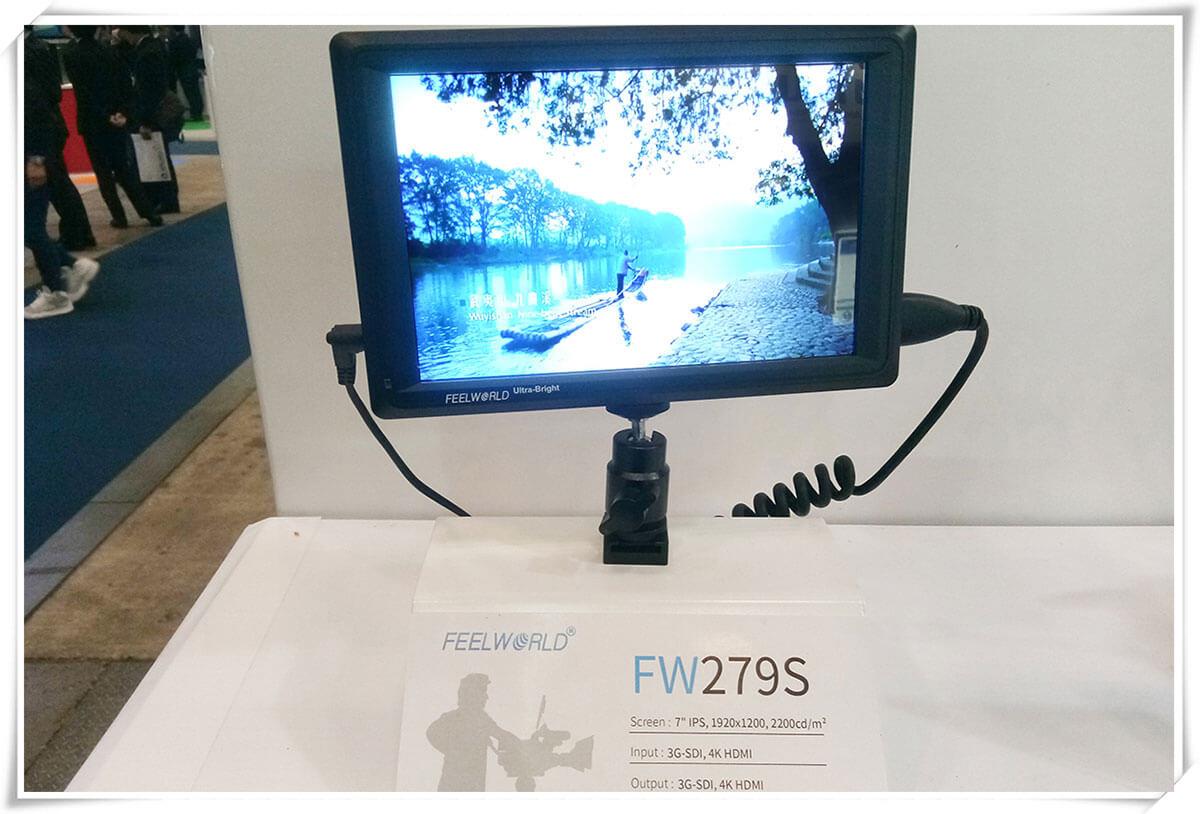 FEELWORLD F570/ T7/ FW703
.FHD high-definition big screen, fine quality, bright and colorful
.Aluminum alloy metal material, multi-process ingenuity
.Lightweight body design, special for film and television shooting
.Cost-effective, portable and compact, loved by many users
.Features such as histogram, peaking focus, embedded audio, and false color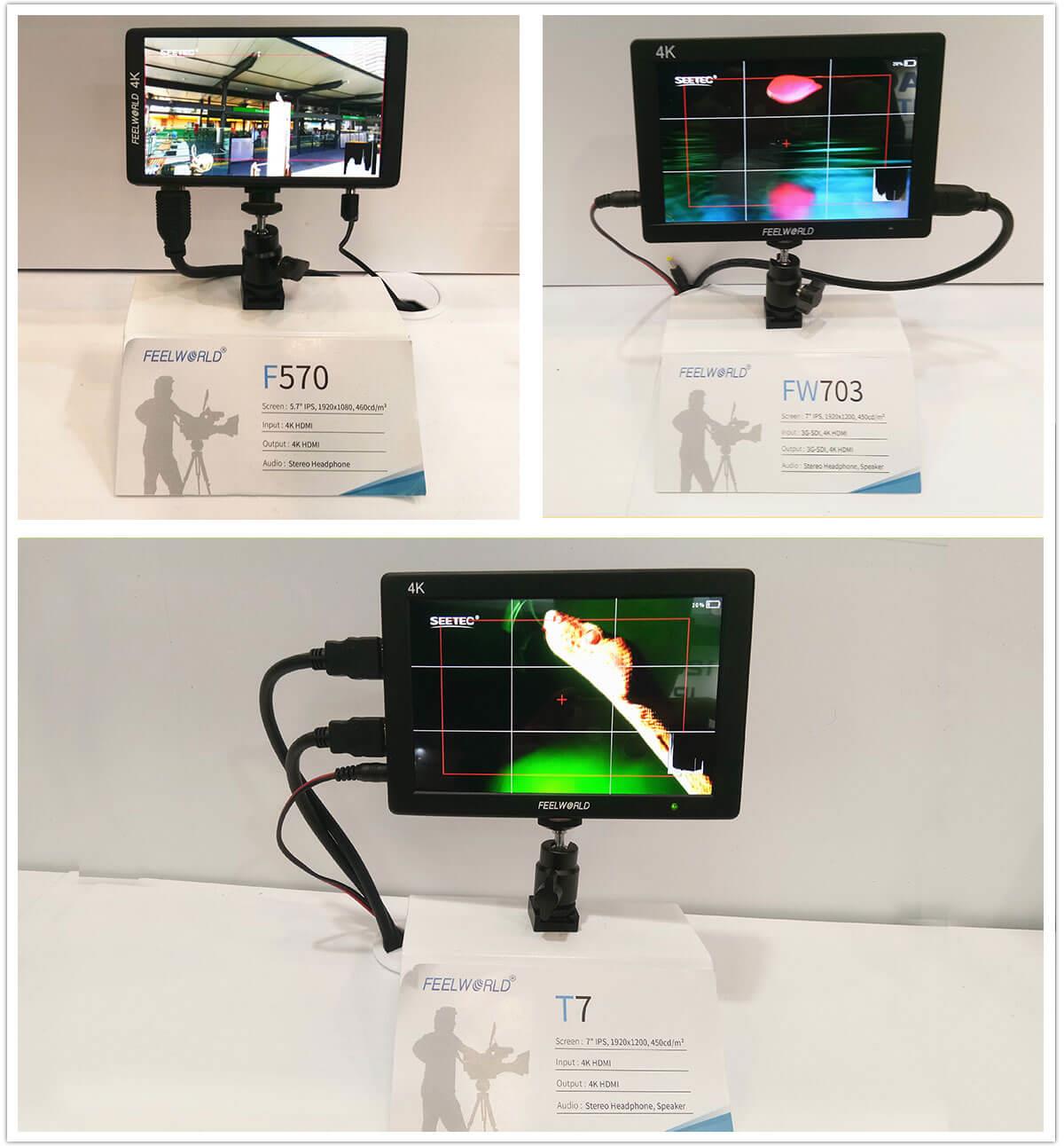 In addition to displaying a variety of new products, the company has attracted many foreign friends to watch. Of course, the SEETEC large size monitor is also attractive!
SEETEC TR721-Tx/ TR721-Rx
All-in-one Wireless Monitoring Solution
.7" 2200nit wireless monitor built-in wireless transmitter
.17.3" FHD wireless monitor with receiver
.Video director's wireless monitoring solution
.Have sharp and clear 1018P quality
.Viewing from different angles, the picture is as beautiful as it is.
.No need to lay cables, no line constraints
.It has functions of histogram, peaking focus, embedded audio, false color and so on.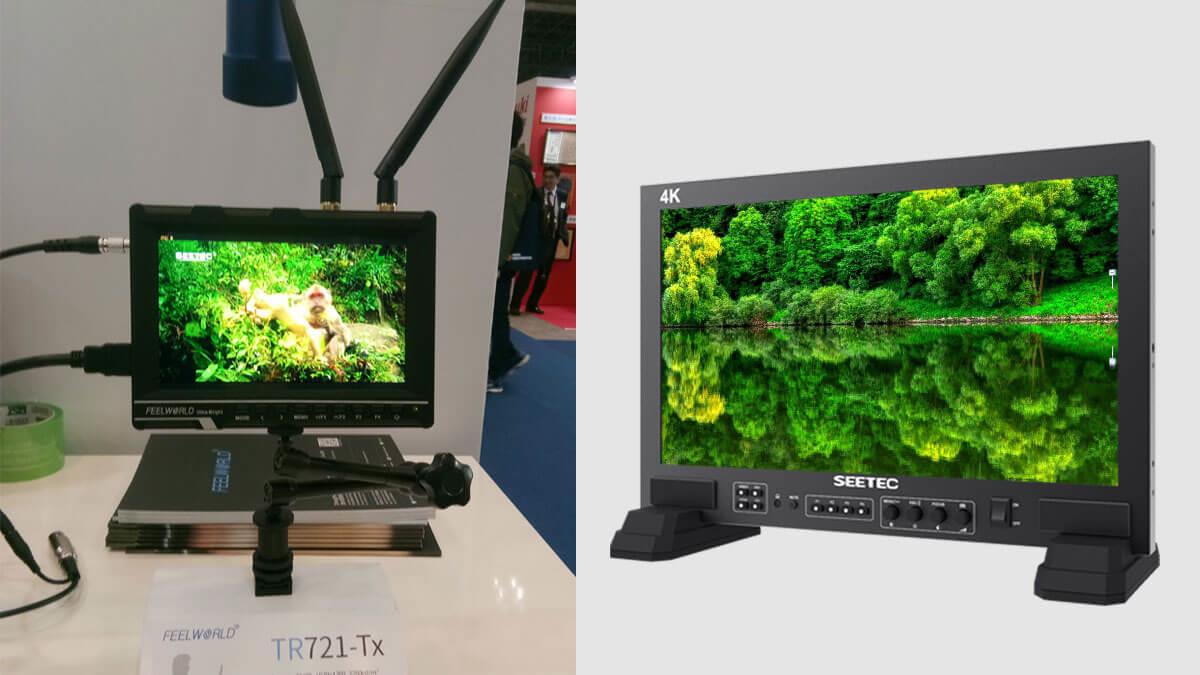 SEETEC 4K156-9HSD/4K238-9HSD-CO
15.6/23.8 Inch Desktop/ Carry-on 4K monitor
.Designed for multi-camera shooting monitoring
.4K LCD screen, the picture is clearer and more delicate
.Support four 4K HDMI input, quad view monitoring
.Three-screen display of left and right, up and down and PIP
.Dual power supply system design to meet the needs of external shooting
.Peaking focus, false color, center mark, safety frame, etc.

Of course, it also carries Broadcast Converters, USB capture card and an SDI splitter.

The three-day InterBee exhibition in Japan has ended, and the products of FEELWORLD&SEETEC have left a deep impression on customers. At the same time, through the interaction and exchanges at the exhibition site, FEELWORLD&SEETEC has established long-term mutual benefit and cooperation with many new and old customers in Japan. Winning the development relationship, but also expanding the brand awareness in Japan and even the Asia Pacific region. We believe that in the future, there will be more customers to choose FEELWORLD&SEETEC, and we will continue to explore and use more advanced technology, the most professional spirit, and the most dedicated attitude to launch more and better products. 2019 The International Broadcast Equipment Exhibition in Japan, we look forward to meeting you again!