SEETEC 12G236D 23.6inch 4K Broadcast HDR Monitor 12G-SDI HDMI UltraHD 3840x2160
Model:12G236D
Introduction
Screen Size:  23.6" IPS
Resolution:   3840x2160 pixels
Aspect ratio: 16:9
Brightness:   300cd/m²
Input
2x12G-SDI, 1xHDMI 2.0, RS422, SFP GPI, Type-C
Output
2x12G-SDI, RS422, Stereo Headphone,speaker
DM

Download

OVERVIEW

FEATURES

SPECIFICATIONS

VIDEO

APPLICATION

ACCESSORIES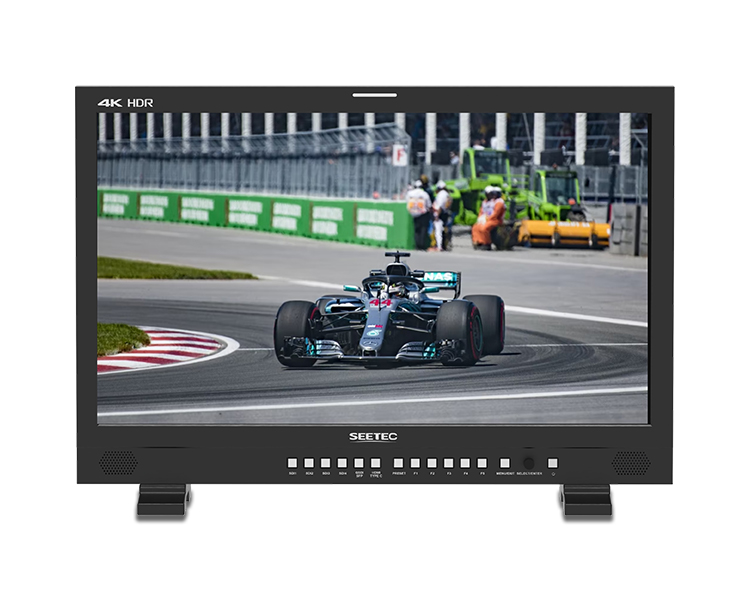 SEETEC 12G236D is a professional film and television production monitor equipped with 2*12G-SDI can support 4K signal input, and presenting you up to 2160p@60 native display. The 23.6-inch ultra HD IPS panel with the color depth up to 8 bit and a series of aux functions. And featuring the option of 12G-SFP Fiber Optic input connection for Ultra HD monitoring over massive distances! You also can connect your computer to control the monitor via applications. It is widely used in the pre-shooting and post color grading work of broadcast, film and television, and high-end advertising production.
Key Features
● 23.6-inch 3840X2160 ultra HD large screen
● Rugged aluminium housing, durable
● Flexible and intuitive button operation, easy to use
● Supports multiple gamut, meet the different needs of photographers for color gamut.
● Mulitple display modes (Quade, Quadview triple side , Quadview triple bottom, PBP, PAP)
● SDR and HDR Image Comparison Function
● With Waveform, Vectorscope, RGB Histogram, Focus Assist, Monochrome etc. functions, can help you accurately exposure and focus every shot.
● Multiple interfaces, meet different needs (2*12G-SDI inputs and outputs, 1*HDMI 2.0 inputs, RS422 in and out, GPI, LAN, Type-C, SFP)
● Three Tally color(Red, Yellow, Green)
● Stereo Earphone output, speaker
● VESA standard mounting points support for hang wall installation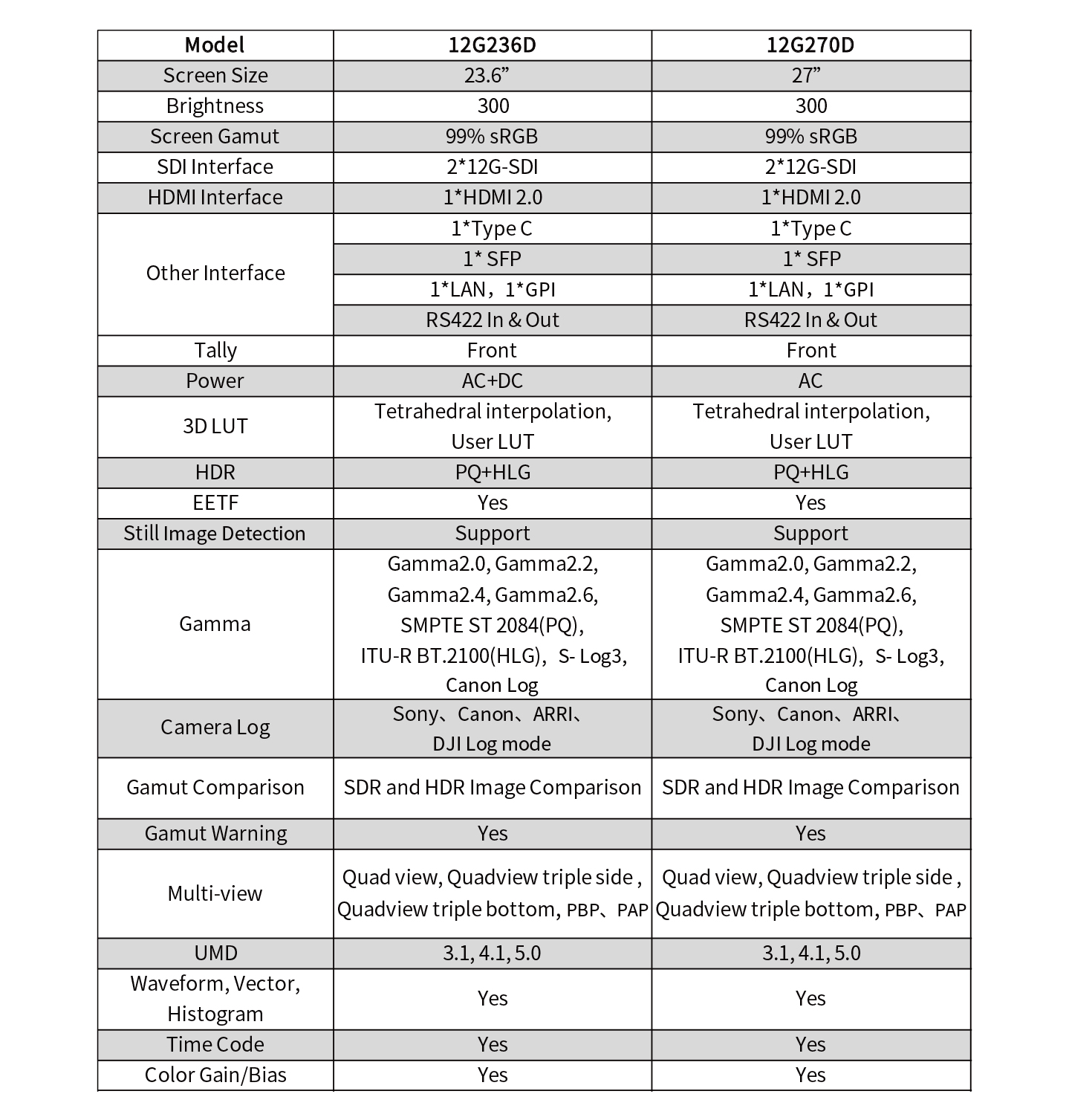 Key Features:
* 23.6-inch 3840X2160 ultra HD large screen
* Rugged aluminium housing, durable
* Flexible and intuitive button operation, easy to use)
* Supports wide color gamut for broadcast TV and film standards, meet the different needs of photographers for color gamut.
* Multiple display modes (Quad, Quadview triple side , Quadview triple bottom, PBP, PAP)
* SDR and HDR Image Comparison Function
* With Waveform, Vectorscope, RGB Histogram, Focus Assist, Monochrome etc. functions, can help you accurately exposure and focus every shot.
* Multiple interfaces, meet different needs (2*12G-SDI inputs and outputs, 1*HDMI 2.0 inputs, RS422 in and out, GPI, LAN, Type-C, SFP)
* Three Tally color(Red, Yellow, Green)
* Stereo Earphone output, speaker
* VESA standard mounting points support for hang wall installation
| | |
| --- | --- |
| Model | 12G236D |
| Screen Size | 23.6" IPS |
| Color Depth | 8Bit(1.67M) |
| Resolution | 3840×2160 pixels |
| Pixel pitch | 0.1369(W) x 0.1369(V) mm |
| Aspect Ratio | 16:9 |
| Brightness | 300cd/m² |
| Contrast Ratio | 1000:1 |
| Backlight | LED |
| Viewing Angle | 89°/89°(L/R) 89°/89°(U/D) |
| | |
| --- | --- |
| 2 X 12G-SDI | 12G-SDI |
| 1 X HDMI 2.0 | HDMI (support 4K) |
| 1 X RS422 | RS422 |
| 1 X GPI | GPI |
| 1 X USB | USB (upgrade and LUT import) |
| 1 X LAN | Ethernet |
| 1 X Type-C | Tpye-C (compatible with Lightning 3) |
| 1 X SFP | SFP Module (optional) |
| | |
| --- | --- |
| 2 X 12G-SDI | 12G-SDI |
| 1 X RS422 | RS422 |
| | |
| --- | --- |
| Audio | Stereo Headphone, Speaker |
| | |
| --- | --- |
| SMPTE-425M-A/B | 1080p (50/59.94/60) |
| SMPTE-274M | 1080p (23.98/24/25/29.97/30p/psf) |
| SMPTE-296M | 720p(60/59.94/50) |
| SMPTE ST 2036-1:2009 | 3840×2160(23.98/24/25/29.97/30/50/59.94/60p) |
| SMPTE ST 2048-2:2011 | 2048x1080(23.98/24/25/29.97/30p/psf, 47.95/48/50/59.94/60p) |
| SMPTE ST 2081 | 3840x2160 (30/25/24p) |
| SMPTE ST 2082 | 3840x2160 (60/50/30/25/24p) |
4096×2160p (60 / 59.94 / 50 / 30 / 29.97 / 25 / 24 / 23.98)
3840×2160p (60 / 59.94 / 50 / 30 / 29.97 / 25 / 24 / 23.98)
1080p (60 / 59.94 / 50 / 30 / 29.97 / 25 / 24 / 23.98)
1080i (60 / 59.94 / 50)
720p (60 / 59.94 / 50)
| | |
| --- | --- |
| Input Voltage | AC 100V~240V |
| Power Consumption | ≤75W |
| Working Temperature | -10°C~55°C |
| Storage Temperature | -20°C~60°C |
| Unit Size | |
| Unit Weight | |
| Outer Carton Qty | |
| Outer Carton Size | |
| Gross Weight | |
* Built-in Multi camera Delog LUTs
* User 3DLUTs upload via USB (up to 8)
* Support GPI control
* Support dynamic IMD, support TSL 3.1/4.0/5.0 and IMAGE VIDEO protocol
* Support TALLY
* Support 16-ch embedded audio meters display
* Histogram
* HDR
* Color Preset Mode (T.709, BT.2020 , DCI-P3, PQ_DCI-P3, PQ_BT.2100, HLG_BT.2100)
* Gamma-EOTF (Gamma2.0, Gamma2.2, Gamma2.4, Gamma2.6, SMPTE ST 2084(PQ), ITU-R BT.2100(HLG), S-Log3, Canon Log)
* PQ Options (PQ-300, PQ-500, PQ-1000)
* Timecode Display
* Color Gain (Red, Green, Blue)
* Color Bias (Red, Green, Blue)
* Under Scan, Over Scan
* EETF
* Center Marker
* Safety Marker (80%、85%、88%、90%、93%)
* Marker Mat (16:9, 15:9, 14:9, 13:9, 4:3, 2.35:1, 1.85:1)
*Waveform (Luminance waveform, component waveform, RGB waveform, RGB overlay waveform )
* Gamma Warning
* Gamma (ITU-R BT.709、SMPTE-C、EBU、DCI-P3、ITU-R BT.2020)
* Crosshatch