SEETEC WPC215 21.5 inch 1000nit High Bright Portable Carry-on Director Monitor Full HD 1920x1080
Model:WPC215
Introduction
Screen Size:  21.5" IPS
Resolution:   1920x1080 pixels
Aspect ratio: 16:9
Brightness:   1000cd/m²
Input
2*HDMI, 1*SDI 1*USB
Output
1*HDMI 1*SDI, Stereo Headphone,speaker
DM
Download

OVERVIEW

FEATURES

SPECIFICATIONS

VIDEO

APPLICATION

ACCESSORIES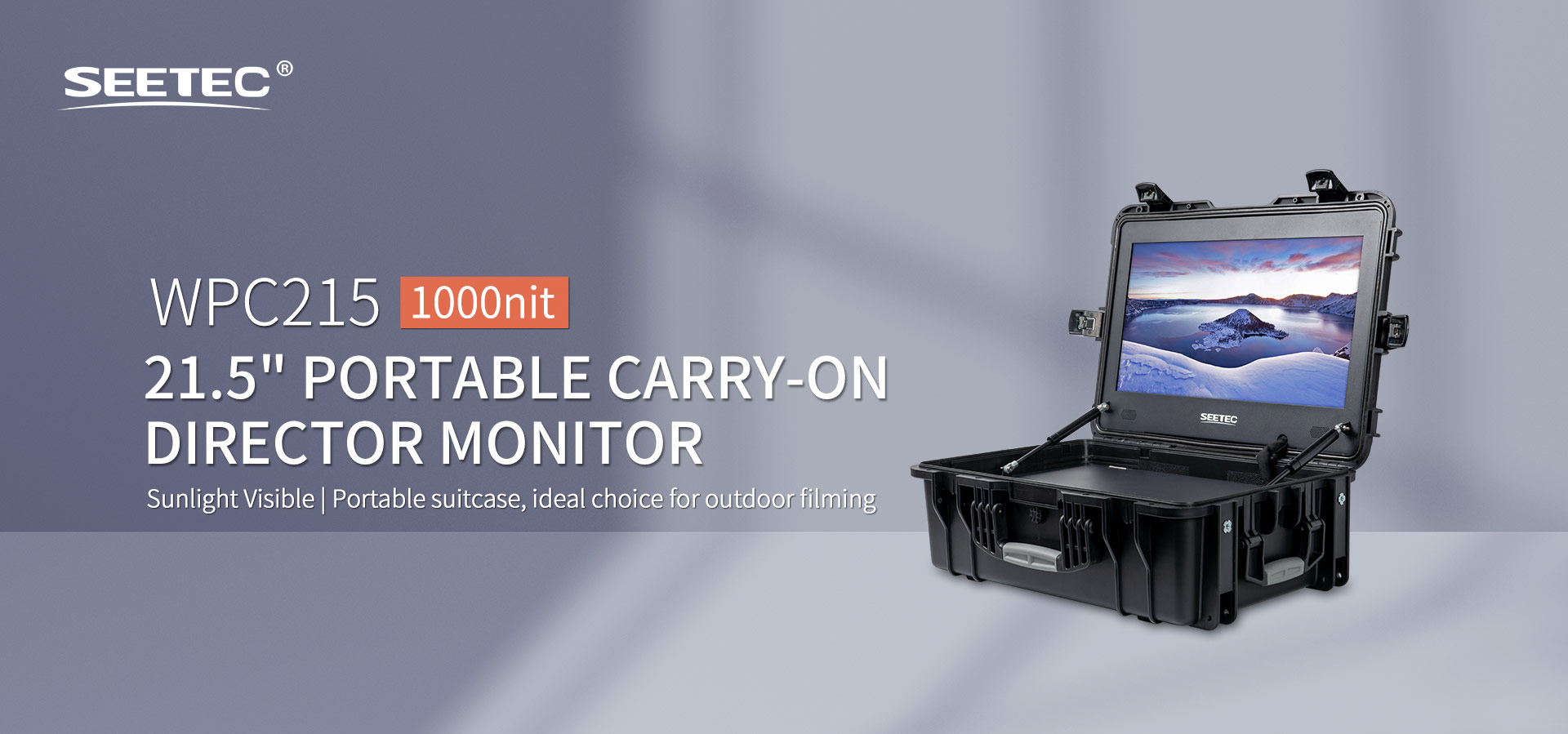 21.5-inch High Bright Portable Director Monitor
Monitor is an indispensable equipment for locating filming. The environment is harsh of outdoor, and the equipment moves frequently. If there is a monitor with portable, waterproof, dust-proof and high temperature resistance, it will be perfect. SEETEC WPC215 can be done! The important is that the panel integrated with the PP alloy protective case. For various harsh filming environments, WPC215 can easily handle it.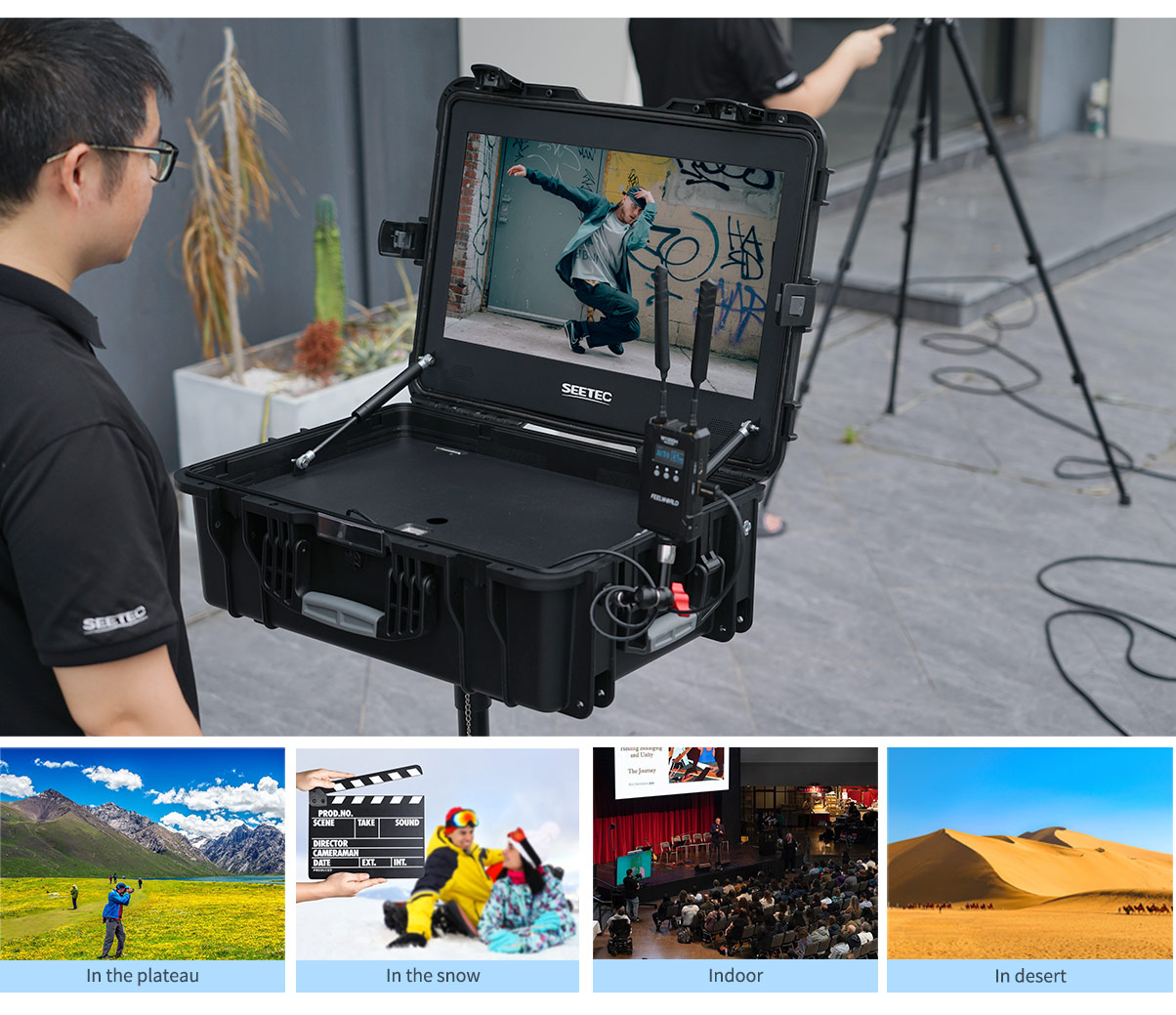 Full HD IPS Panel
Viewing clearly and capture every detail with confidence
With extremely high resolution IPS panel, provides excellent details;covers 72% NTSC color space, accurately reflect the original colors.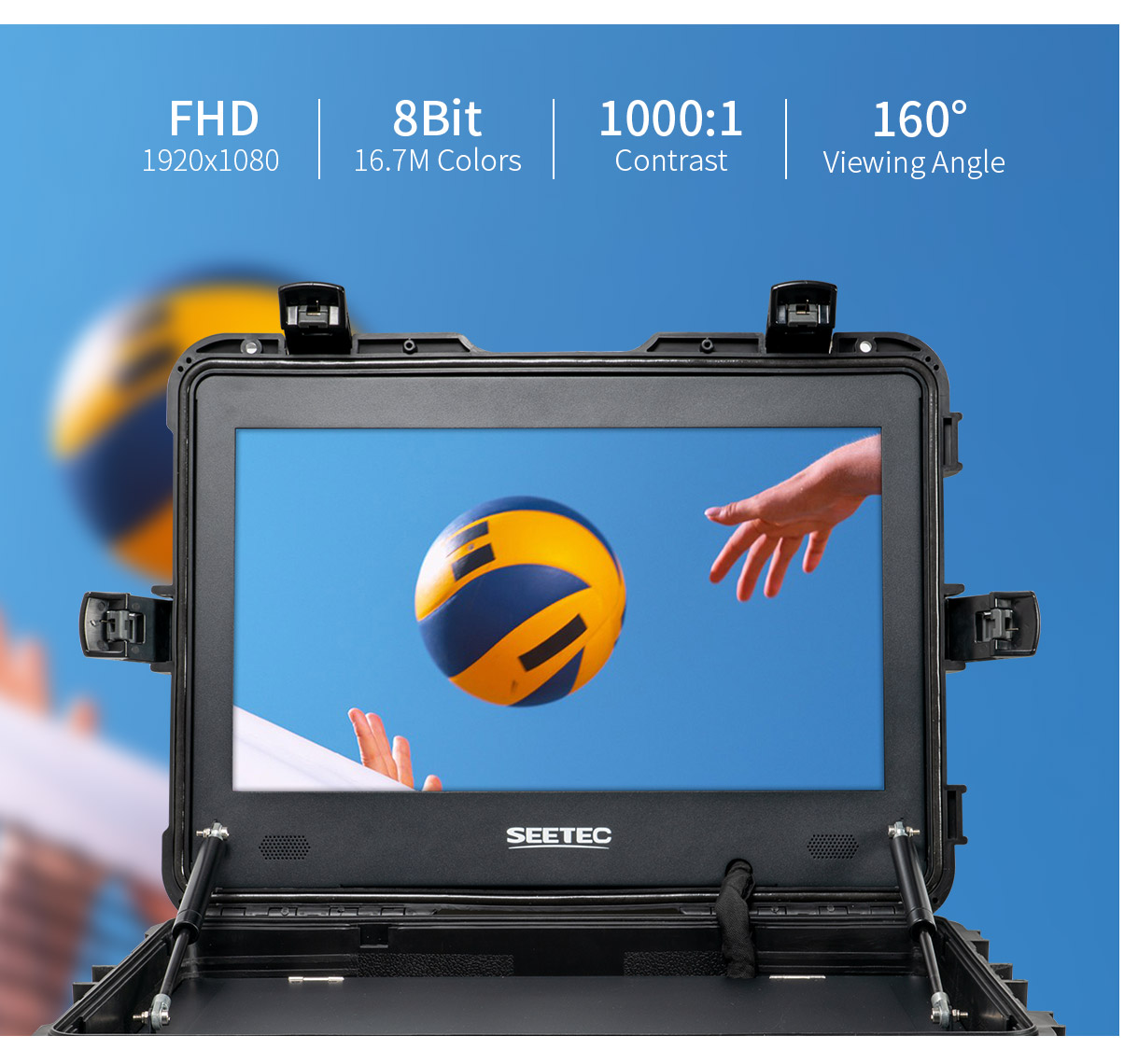 Professional Calman Software Calibration, True Color Presentation
Each monitor is calibrated by Calman software at the factory to ensure color accuracy and good reproduction.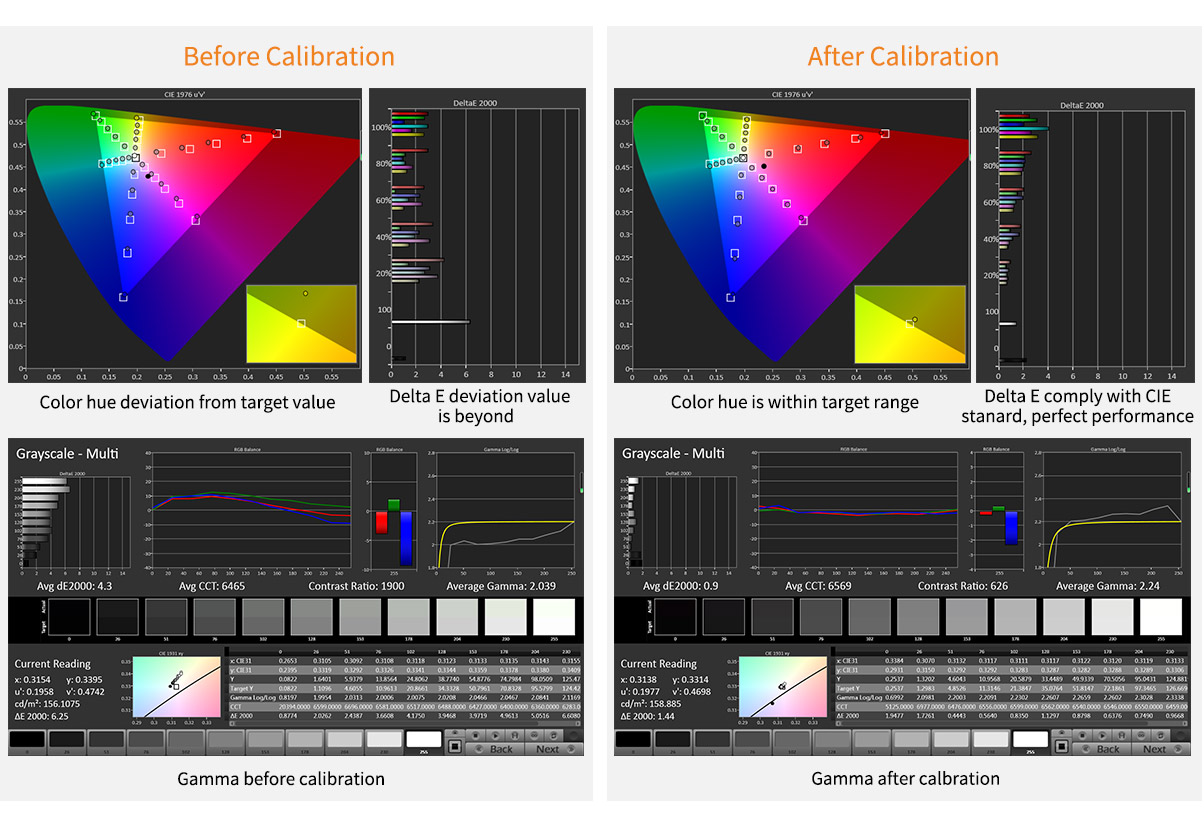 1000nits, Daylight Viewable
Backed by 1000nits of brightness, WPC215 isn't afraid to get a little sun. Easily adjust the monitor brightness to fit your filming environment,especially suitable for outdoor filming in crew.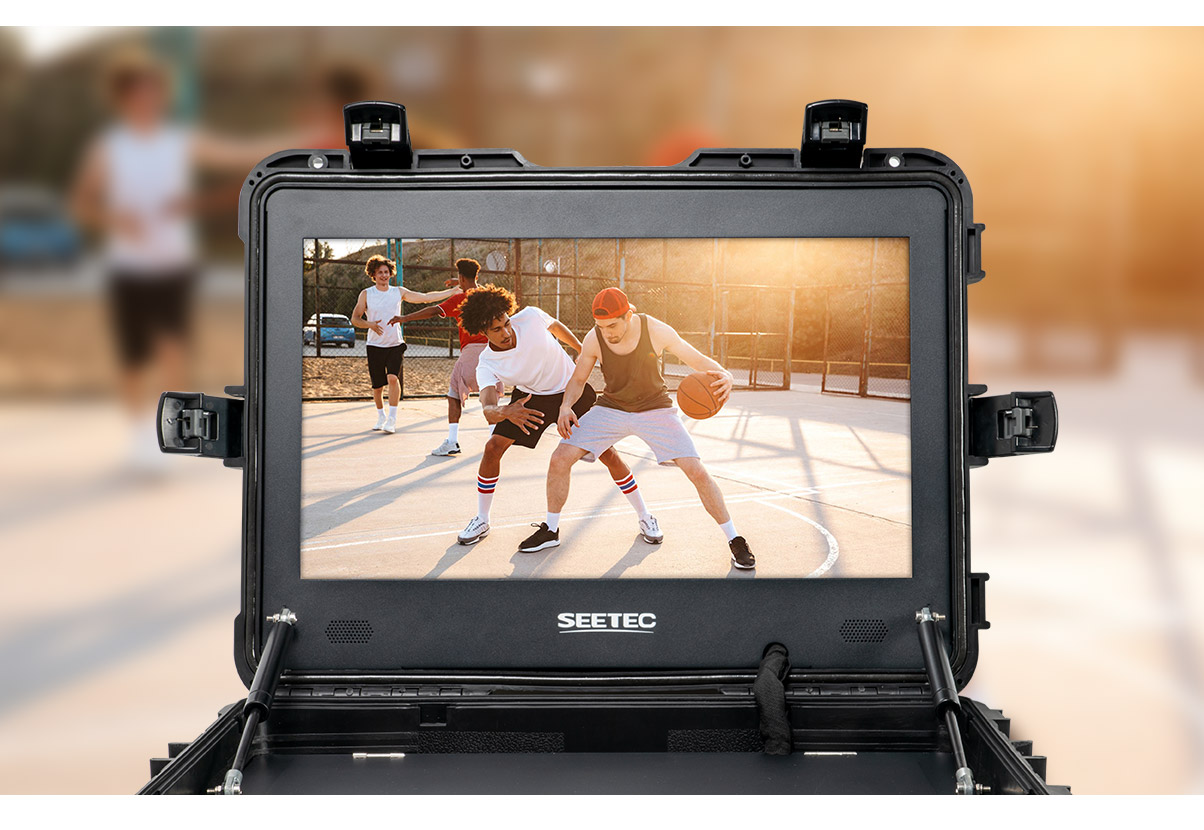 New UI Menu Interface
New UI menu, take the software functions are iconized, and the values at a glance. It is more convenient and quickly to operate the function.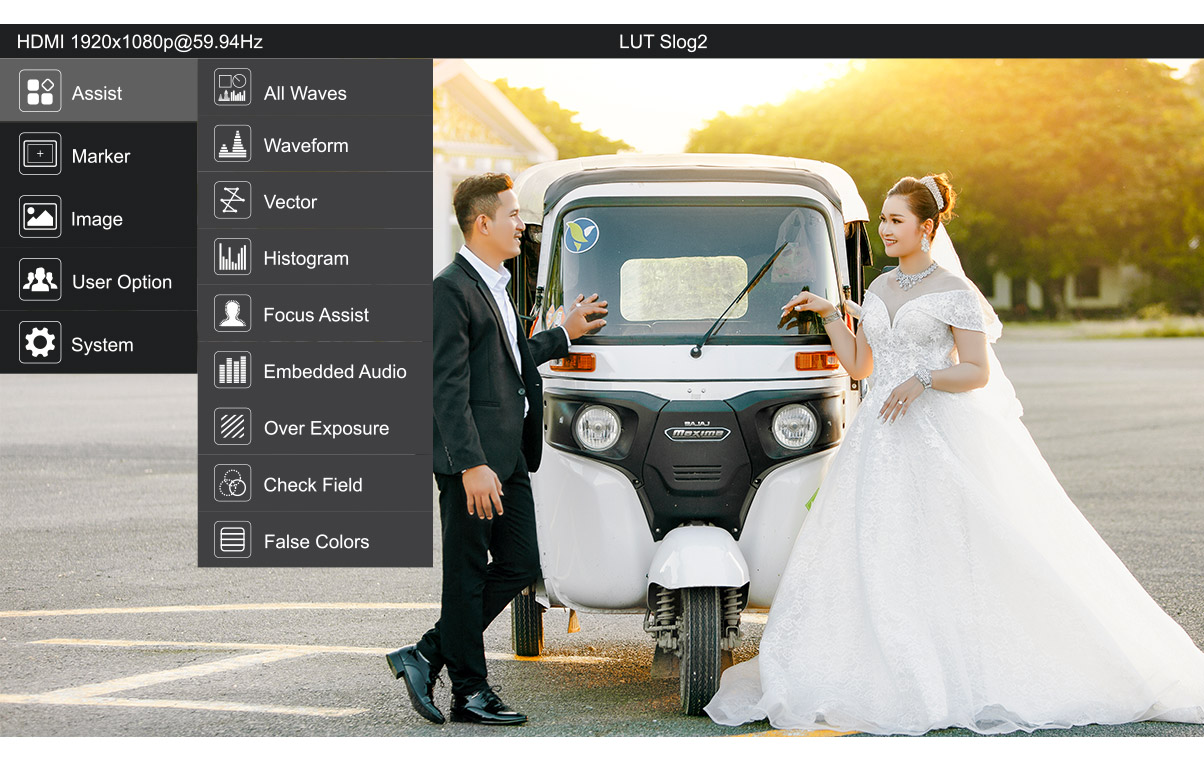 Professional Auxiliary Tools, Help You Focus and Exposure Accurately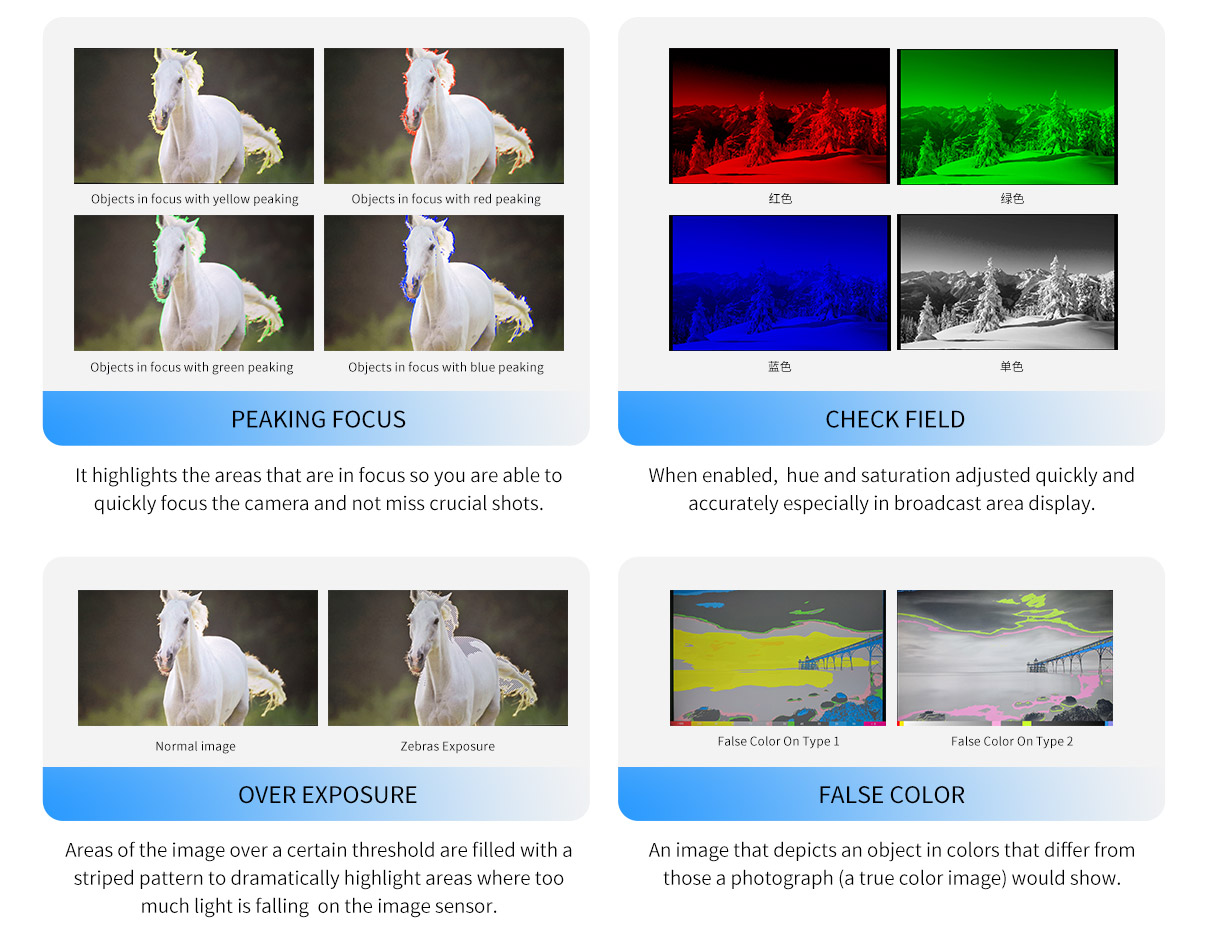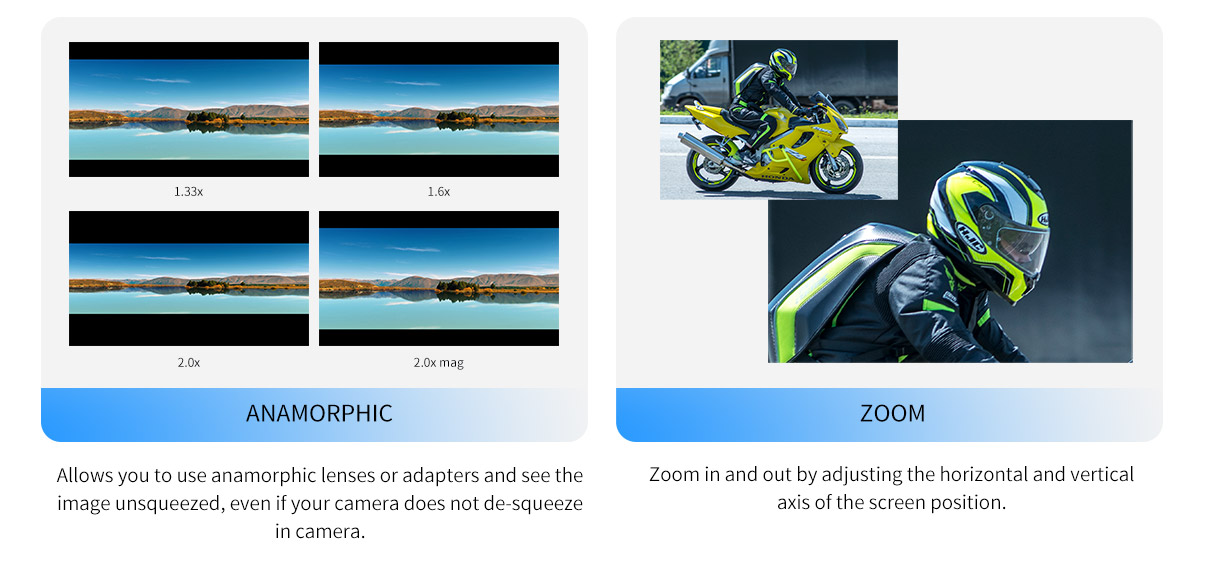 Load Custom 3D LUTs,Preview Filming Look in Field Shooting
Supports upload 32 custom LUTs
3D-LUT is a table for quickly looking up and output specific color data. By loading different 3D-LUT tables, it can quickly recombine color tone to form different color styles. Built-in 4 DE-log LUT , you also can load the custom .cube file via USB flash driver (up to load 32).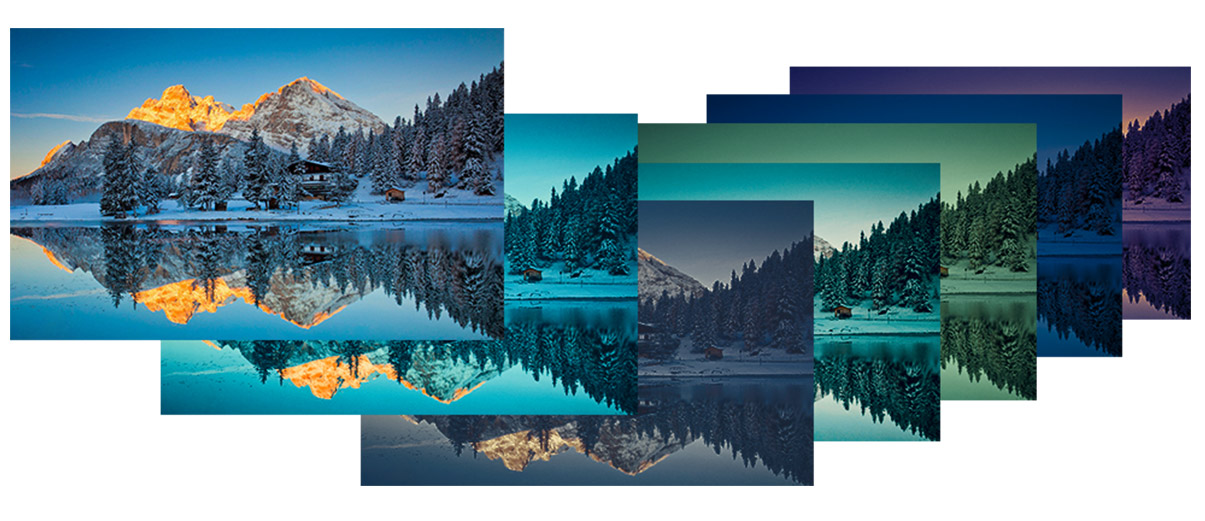 Accurate waveform monitoring
Save your budget
Built-in waveform monitoring, you can choose from waveform (RGB Parade, YUV Parade, Y Parade), vector scope, histogram, audio phase and level displays, and get broadcast accurate waveform monitoring that shows everything you need to know technically about your video and audio signals. The functions can be opened separately, and also support one key to open all scope mode . WPC215 becomes the ideal choice for live production monitoring, so you no longer need to use a separate expensive scopes!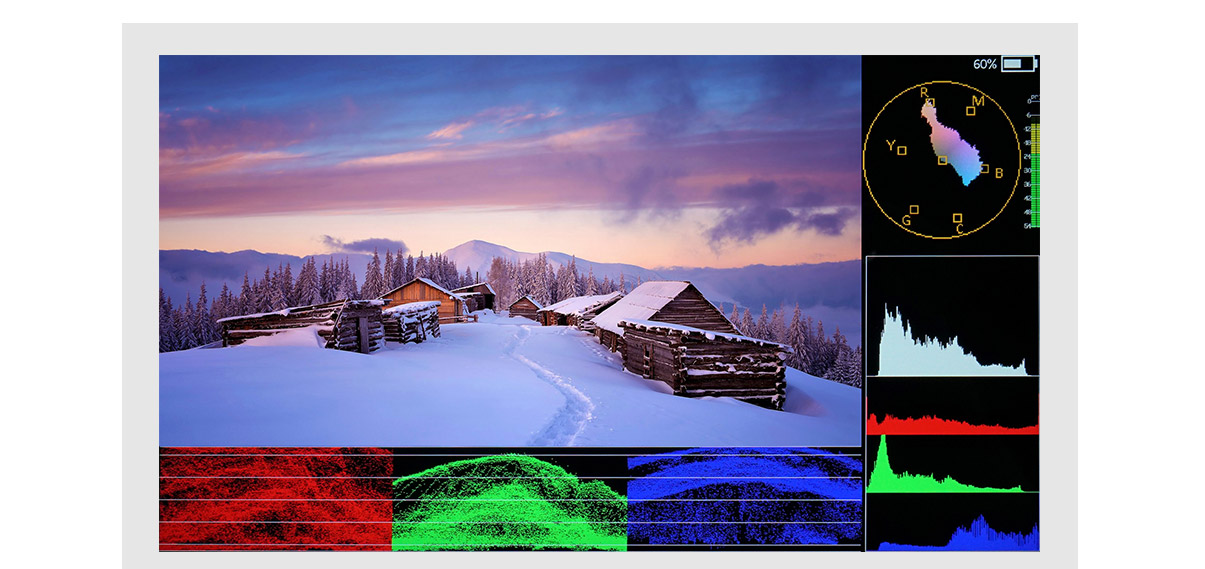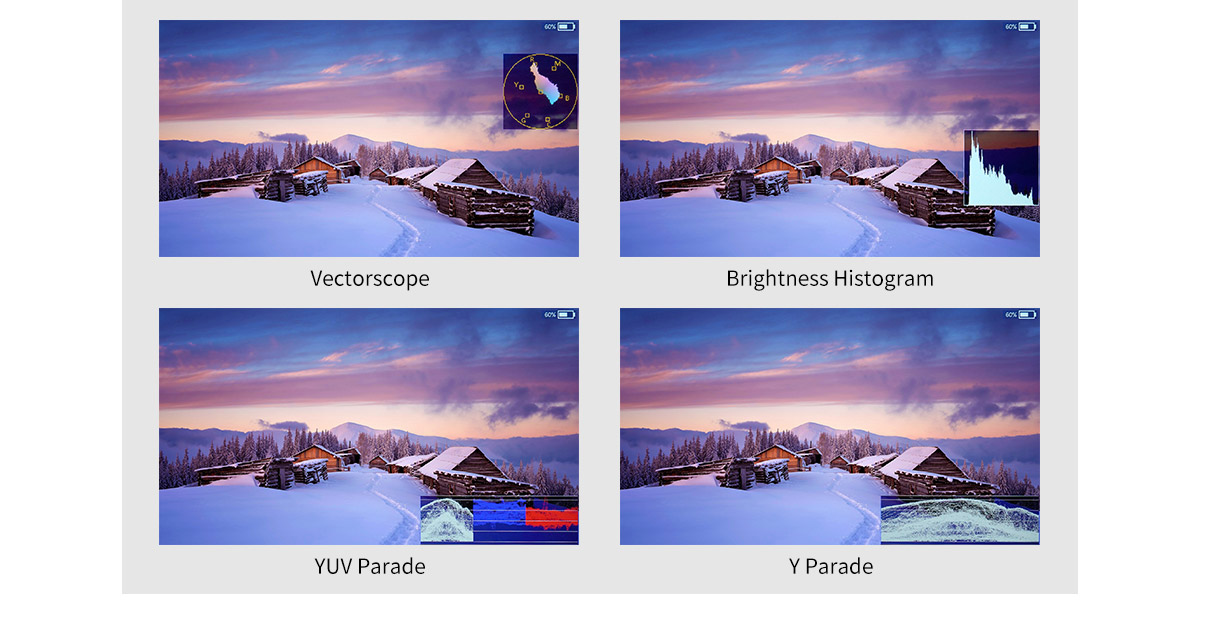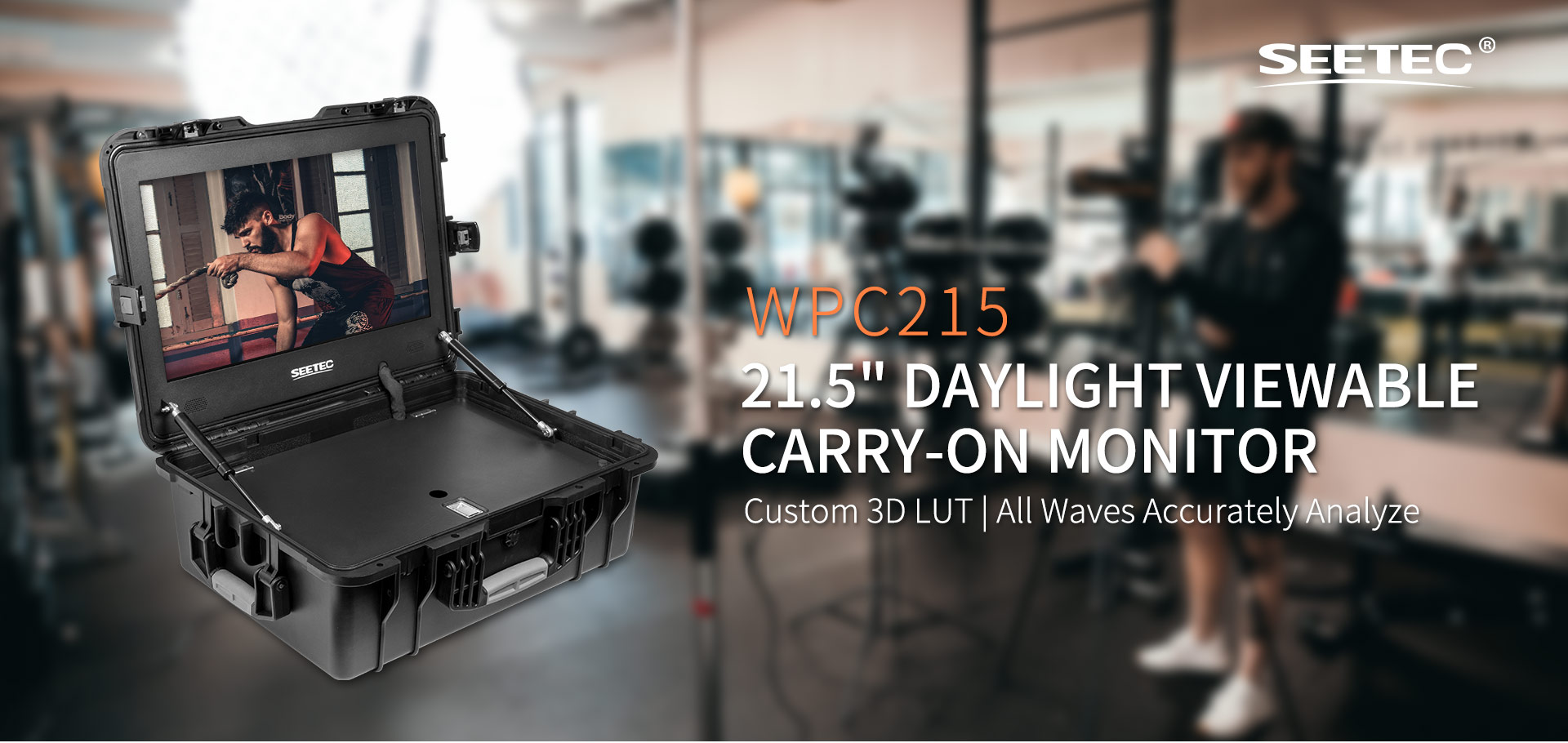 Flexible and Intuitive Button Operation
When you are busy at the shooting scene, you need to be able to easily control the equipment.WPC215 is equipped with multi operation buttons,can switch between one-button sources, custom shortcuts, and quickly adjust brightness,contrast,volume ,etc.to make shooting easier.

Dual HDMI + SDI Input and Output, Meet More Selection
The monitor equipped with SDI and 4K HDMI input and output, compatible with film camera, DSLR camera, mirrorless camera.And loop-out to other device via output port,realize multi person simultaneous monitoring.For audio, WPC215 provides two speakers and one 3.5mm earphone jack.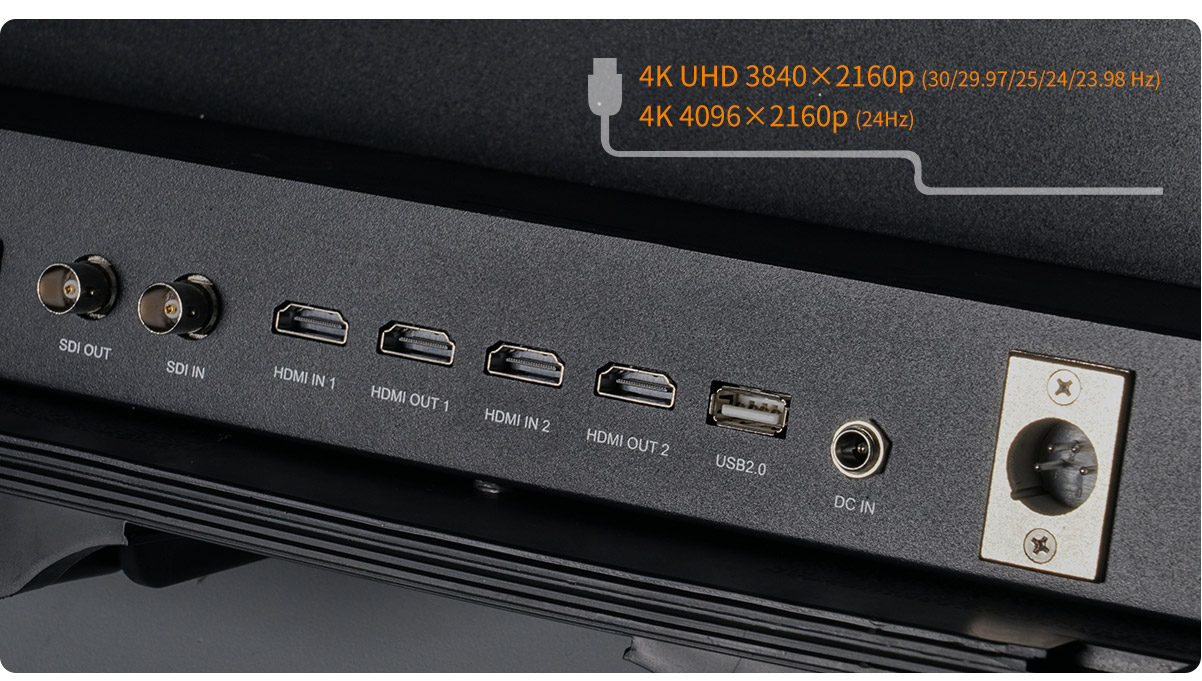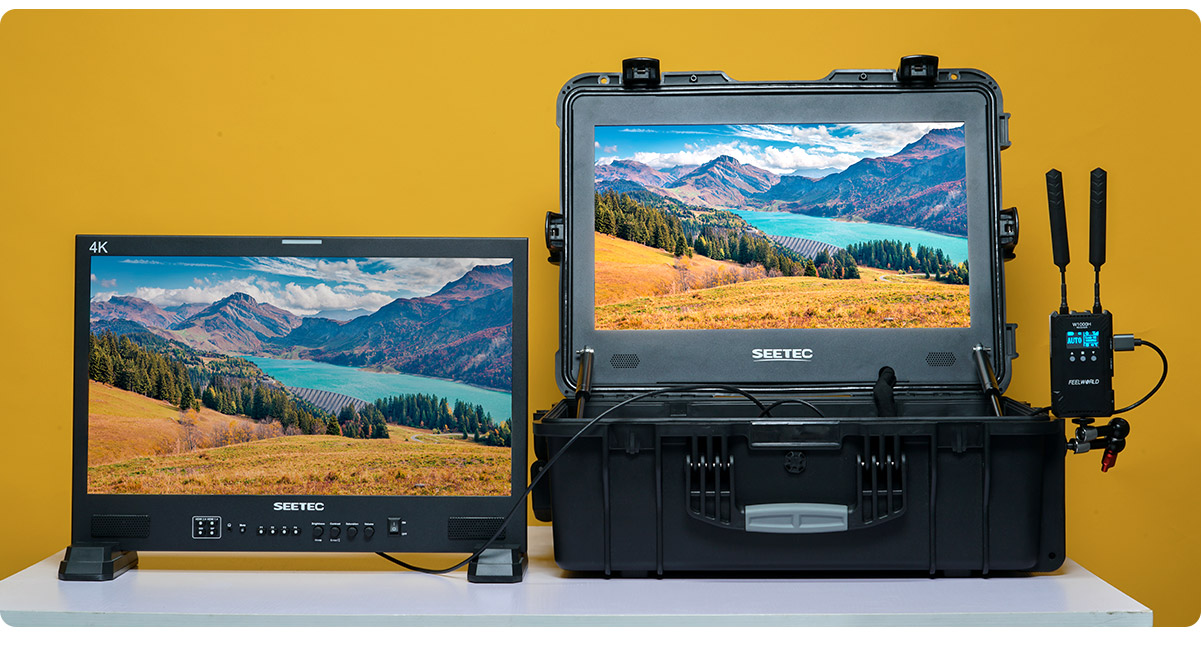 Multiple Power Supply,Long-lasting Power Shooting
The monitor offers 12V DC power interface, XLR connector (can be use 4A power adapter) and 2 V-mount battery plates for options. Provide strong power for outdoor filming.
Note: the battery not including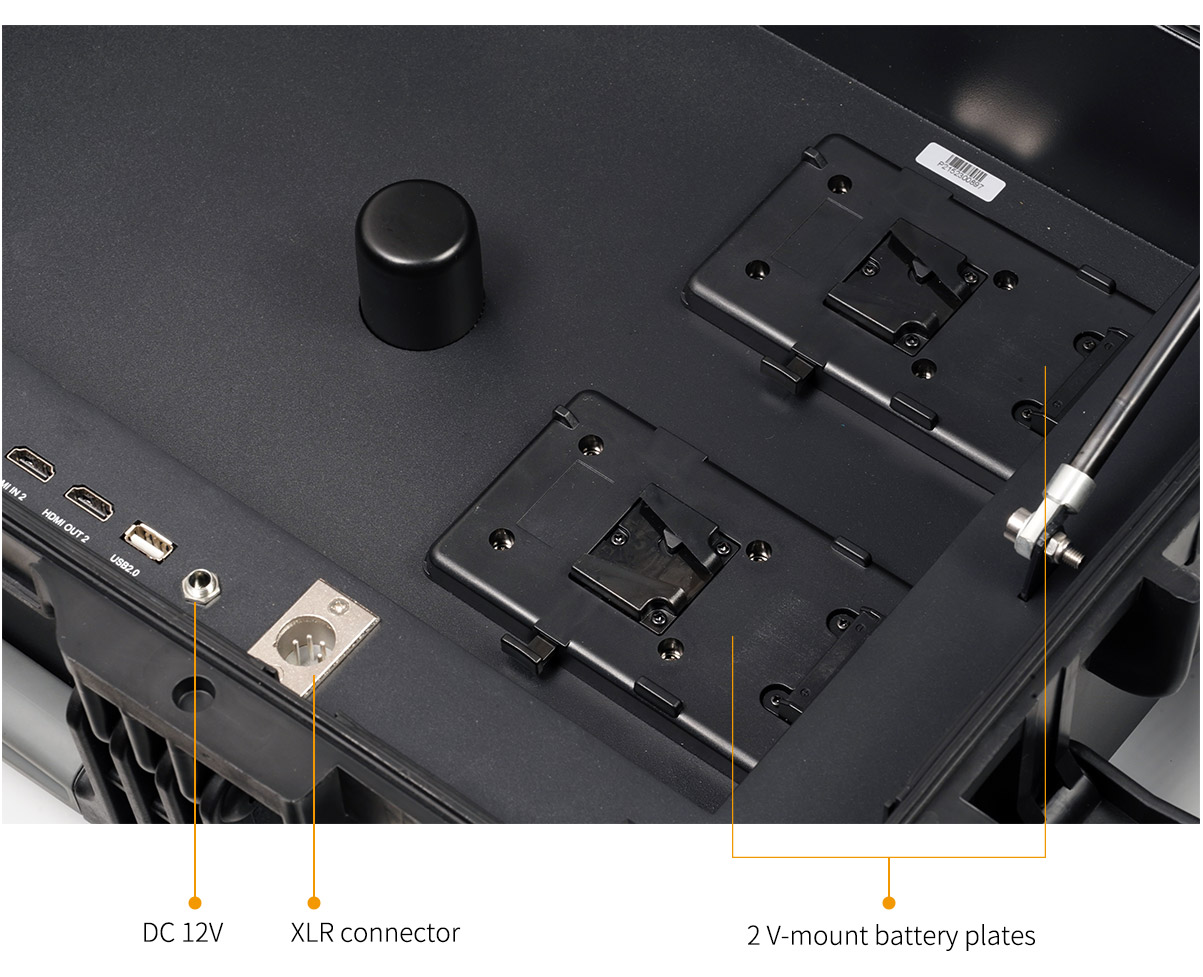 Portable Protective Suitcase,Ideal Choice For Outdoor Filming
WPC215 comes with a portable protective suitcase,adopts integrated PP alloy high-strength material,featuring with dust-proof, waterproof, high-temperature resistance, impact resistance and corrosion resistance, can application to multiple harsh environment filming. Plus,the carry-on design,makes outdoor photography easy and convenient.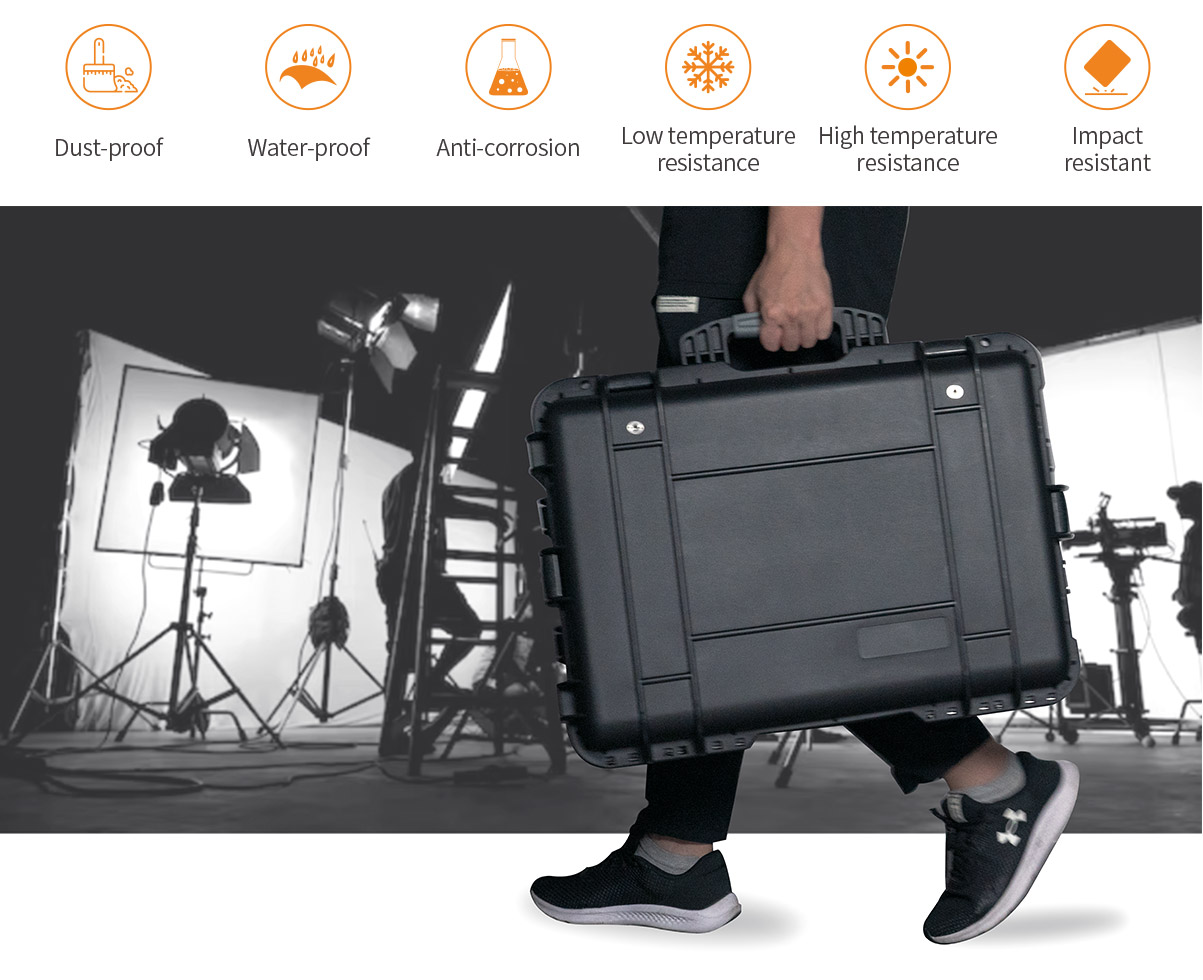 Reserved Storage Space
There is a portion of space on the left side of suitcase inside, can put the accessories or other equipment. And with a metal cover for protection.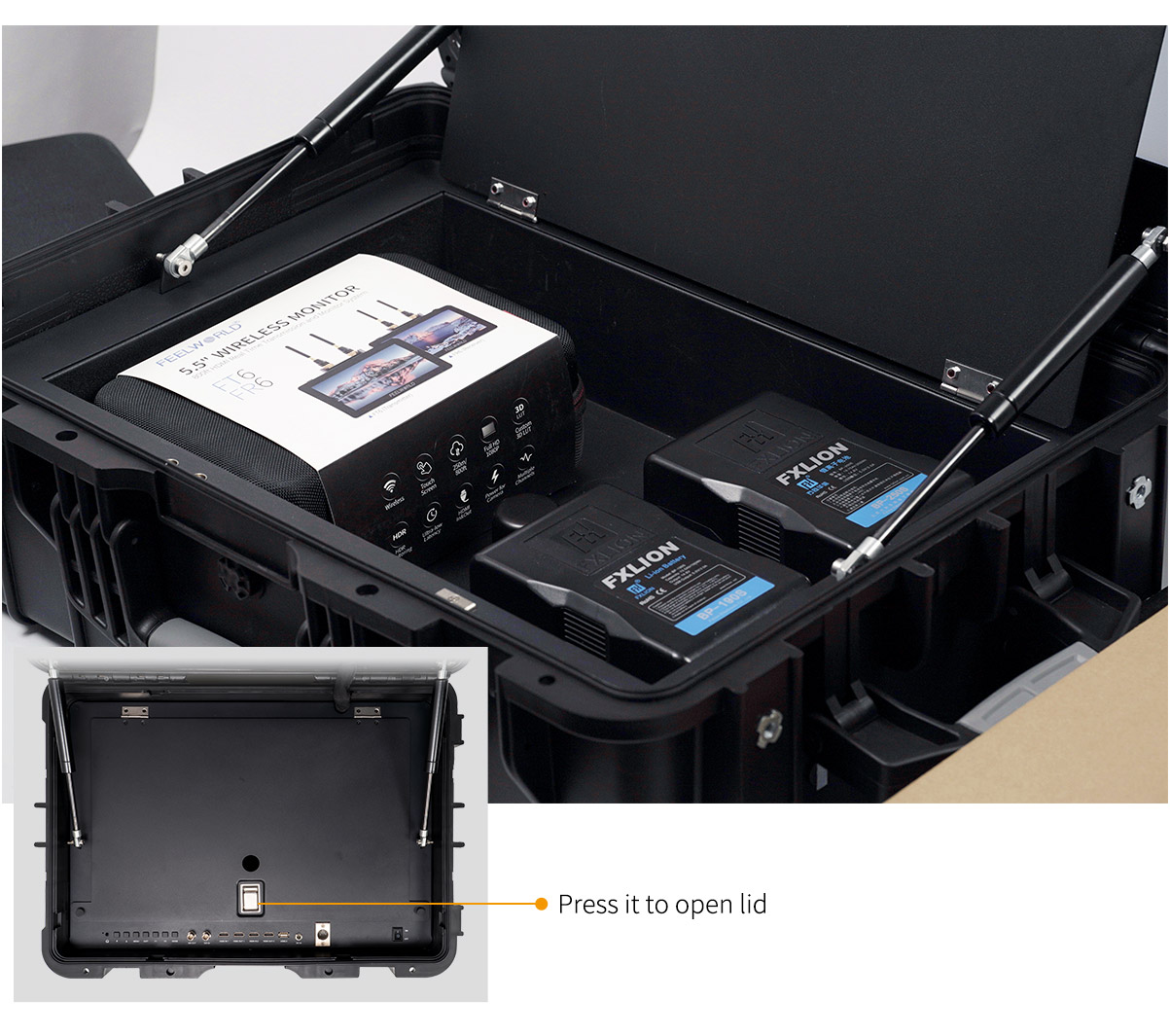 Multi Languages Support,Satisfy Different Needs
WPC215 built-in up to 11 languages, meet the different needed.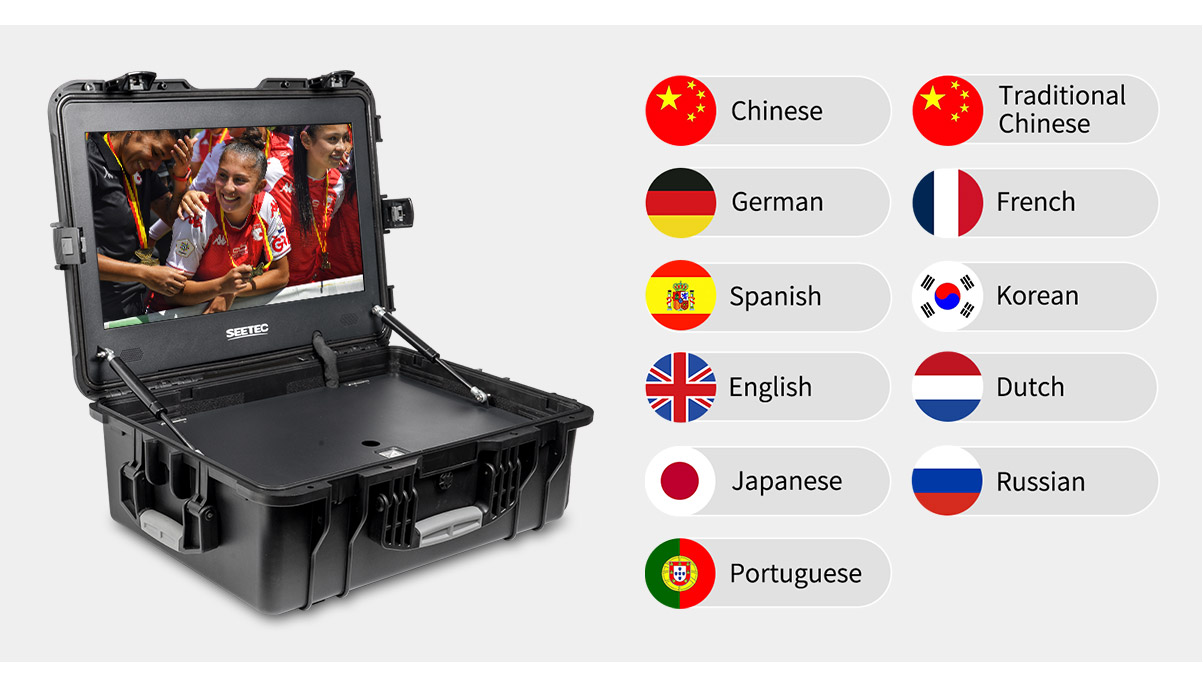 Multiple Mounting Points,Make Filming More Possibilities
There are two 1/4 threads both on the right side and top of suitcase, which can be installed with wireless video transmission or other equipment. In addition, the bottom of case built-in metal bracket, you can easy install the monitor on the tripod or light stand.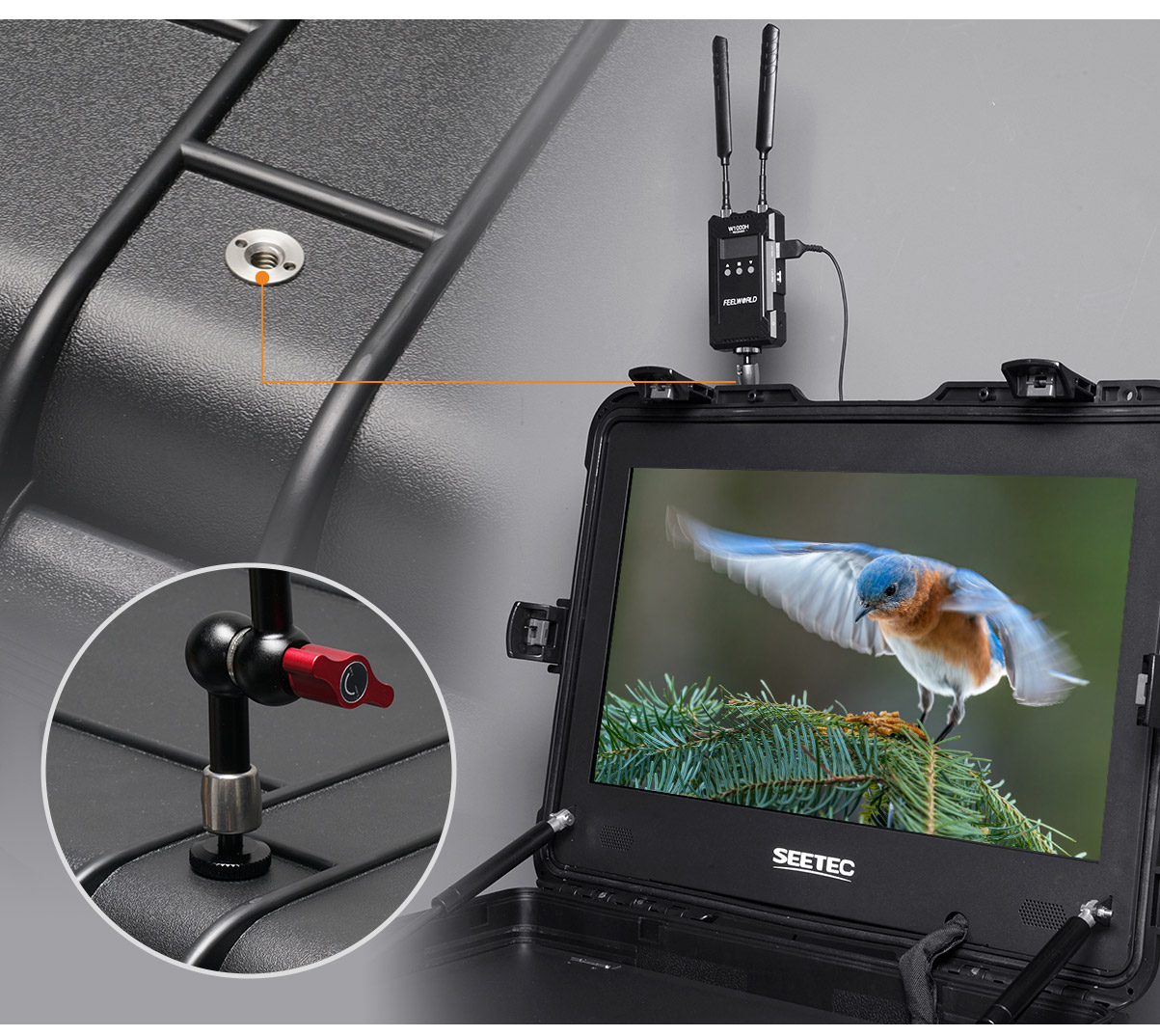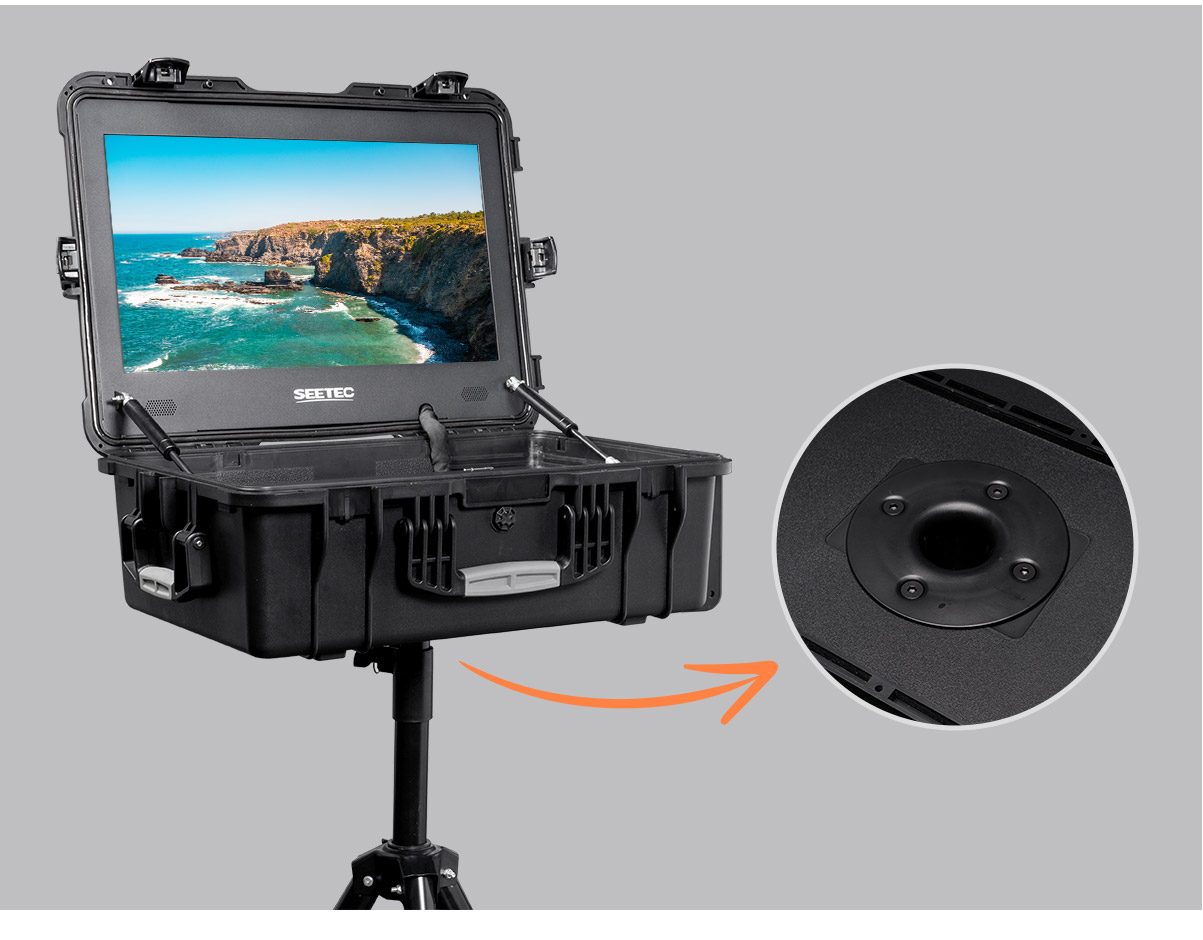 Key Features:
* 21.5-inch 1920x1080 full HD large screen
* Portable waterproof case, easily cope with various harsh shooting environments
* 1000nits high brightness, ideal choice outdoor shooting
* Flexible and intuitive button operation, easy to use
* Custom 3D-LUT, preview film look
* With Waveform, Vectorscope, RGB Histogram, Focus Assist, Monochrome etc. functions, can help you accurately exposure and focus every shot.
* 3G-SDI,HDMI support up to 4K@30Hz
* With multiple 1/4 screw thread, can be mount wireless transmission and other device.
* The bottom of case built-in metal bracket, can mount the monitor on the tripod.
* Stereo Earphone output
* All waves (waveform, vector, histogram and embedded audio)
* Waveform (RGB、YUV、Y)
* Vector
* Histogram(RGB1、RGB2、Y)


*Focus Assist ( Red, Green, Blue three colors optional highlight over parts of the image in focus)




*Embedded Audio




*Over Exposure (10~100)


* Check Field (Red, Green, Blue, Gray)


*False Color




*Nine Grid




*Safety Marker ( 80%, 85%, 90%, 93%, 96%, 2.35:1)




*Center Marker




*Ratio Marker(4:3、13:9、14:9、15:9、16:9、1.85:1、2.35:1)




*Scan Mode (Under Scan, Over Scan)




*Aspect Ratio (Auto, 16:9, 16:10, 4:3, 5:4, 1.85:1, 2.35:1, Full Screen)




*Anamorphic (1.33X, 1.6X, 2.0X, 2.0X MAG, User)




*Image Flip (H Flip, V Flip, H_V Flip)




*Zoom Mode(2X、4X、9X、16X、User)




*Freeze




*Pixel to Pixel




*3D-LUT




*Colortemp (5600K, 6500K, 9300K, User)
Waveform
This essential feature assists with the calibration of professional video cameras. It shows the overall brightness of the image assisting the video professional in correcting exposure. The waveform feature also checks the evenness of the lighting when lighting a chromakey or background.
Vectorscope
Vector scope shows how saturated the image is and where the pixels in the image land on the color spectrum. It can also be displayed in various sizes & positions, that allows users to monitor color gamut range in real time.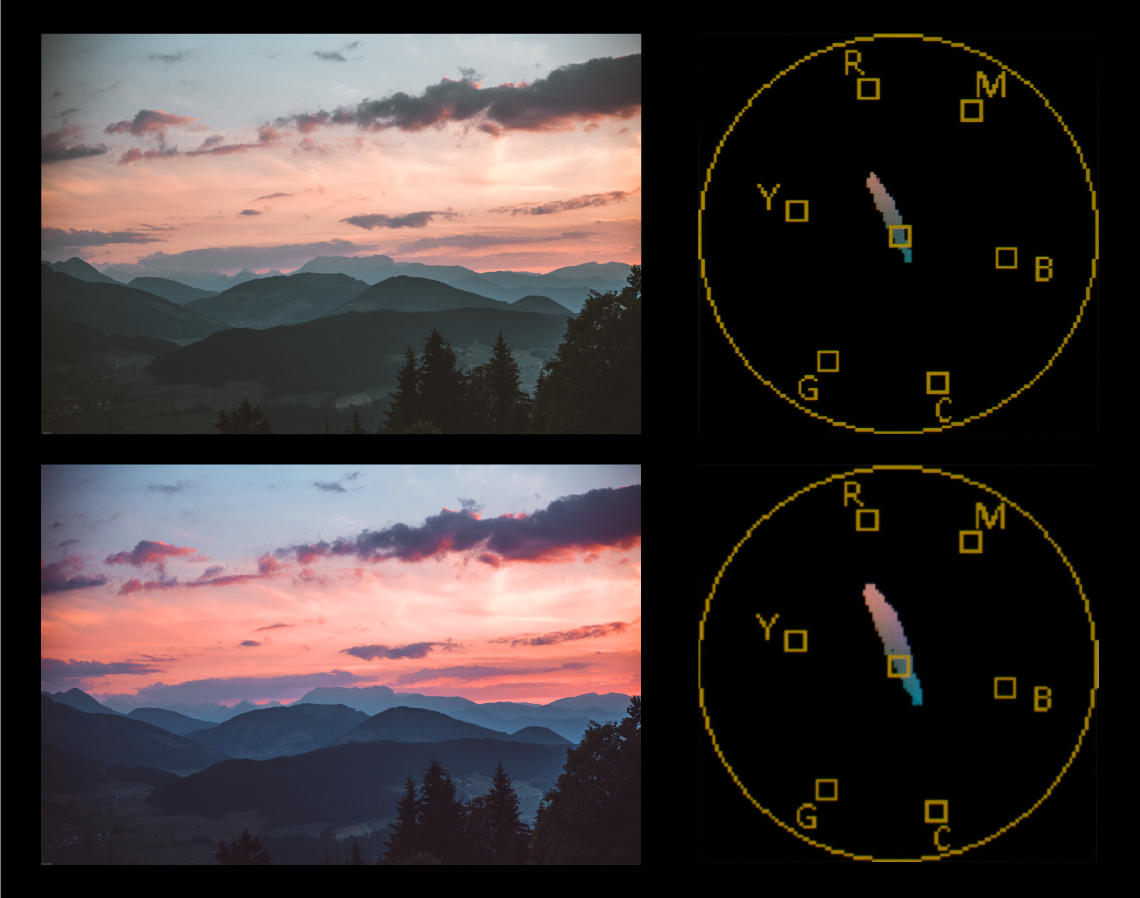 Brightness Histogram
The Brightness Histogram is a quantitative tool to check the picture brightness.The feature shows the distribution of brightness in an image as graph of brightness along the horizontal axis and a stack of the number of pixels at each level of brightness along the vertical axis.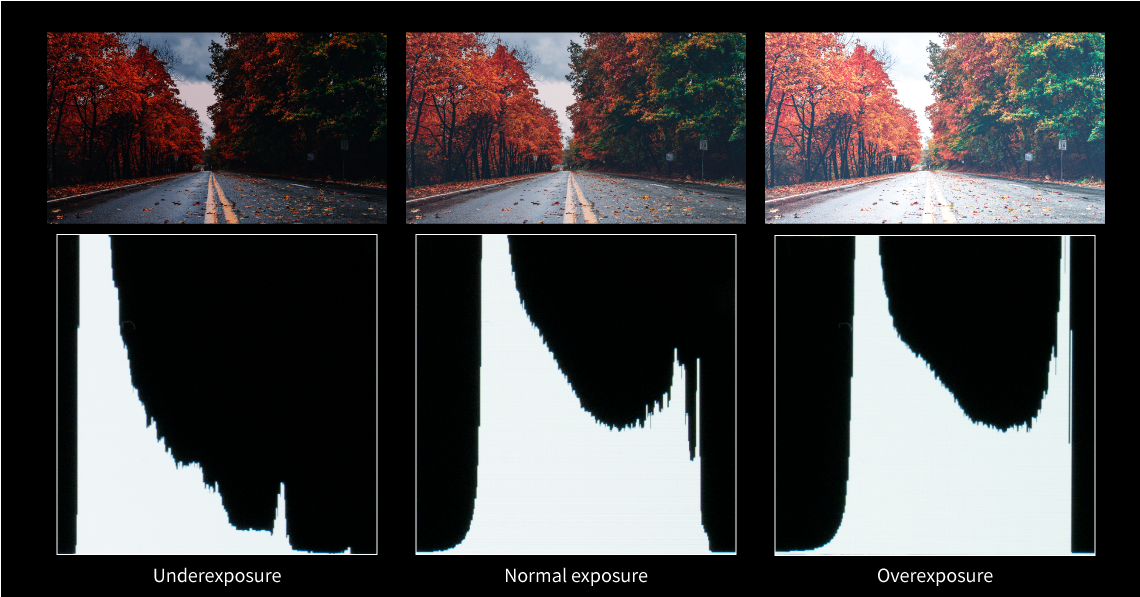 RGB Histogram
RGB histogram is a graphical display of the distribution of tones, shows the Red, Green and Blue channels histograms. Suitable for HD-SDI and HDMI signal monitoring.

Embedded Audio Monitoring
The Audio Level Meters provide numerical indicators and headroom levels. It can generate accurate audio level displays to prevent errors during monitoring.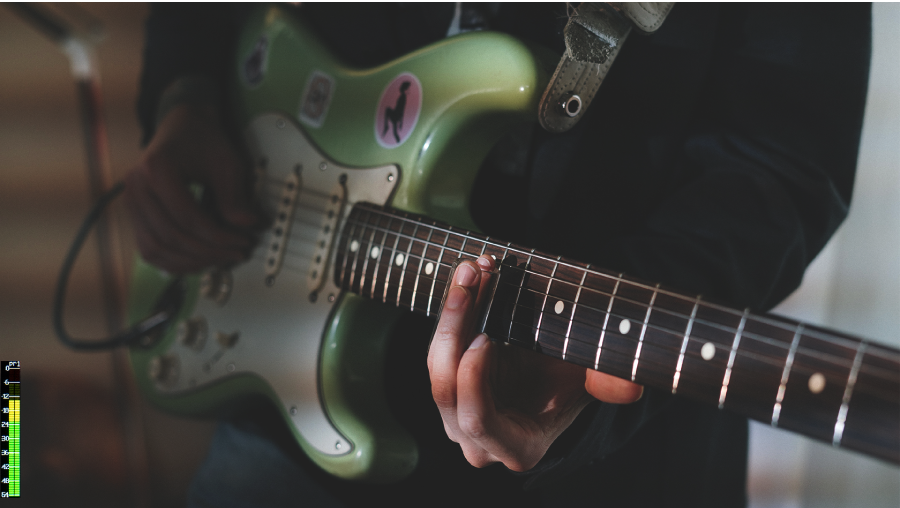 Nine Grid
Zoom one of the images to realize the full screen. You can switch the Mark color between Red, Green, Blue, Black, White, Gray according to different tone of the subject.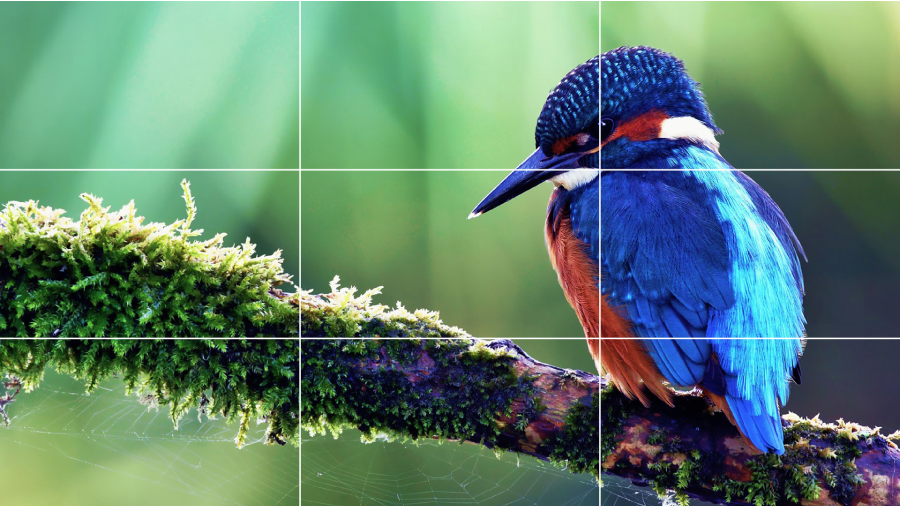 Image Flip
The Horizontal,Vertical and Hor&Ver of the image around flip

Pixel to Pixel
Enable the filmmaker to check the image from the 1:1 signal source without scaling.This feature is essential for capturing optimum detail.

Center Marker & Safety Marker
Safety Marker for View Finding and Composition (80%, 85%, 90%, 93%, 96%, 2.35:1). You can switch the Mark color between Red, Green, Blue, Black, White, Gray according to different tone of the subject.

| | |
| --- | --- |
| Model | WPC215 |
| Screen Size | 21.5" IPS |
| Color Depth | 16.7M |
| Resolution | 1920×1080 pixels |
| Pixel pitch | 0.24795(W) x 0.24795(H) mm |
| Aspect Ratio | 16:9 |
| Brightness | 1000cd/m² |
| Contrast Ratio | 1000:1 |
| Backlight | LED |
| Viewing Angle | 89°/89°(L/R) 89°/89°(U/D) |
| | |
| --- | --- |
| 1X SDI | 3G-SDI |
| 2 X HDMI | HDMI-A (up to 4K@30) |
| 1 X USB | USB (upgrade and LUT import) |
| | |
| --- | --- |
| 1 X SDI | 3G-SDI |
| 1 X HDMI | HDMI-A (up to 4K@30) |
| | |
| --- | --- |
| Audio | Stereo Headphone, Speaker |
720p (60/59.94/50/30/29/25/24/23.98)
1080i (60/59.94/50)
1080p (60/59.94/50/30/29.97/25/24/24sF/23.98/23.98sF)
480i/576i/480p/576p
720p (60/59.94/50/30/29.97/25/24/23.98)
1080i (60/59.94/50)
1080p (60/59.94/50/30/29.97/25/24/23.98)
4K UHD 3840×2160p (30/29.97/25/24/23.98 Hz)| 4096×2160p (24Hz)
| | |
| --- | --- |
| Input Voltage | DC 12V |
| Power Consumption | ≤38W |
| Working Temperature | 0°C~50°C |
| Storage Temperature | -20°C~60°C |
| Unit Size | 596*440*240mm |
| Unit Weight | about14.8kg |
| Outer Carton Qty | 1 |
| Outer Carton Size | 670*340*530(mm) |
| Gross Weight | about16.5kgs |
* Built-in Multi camera Delog LUTs
* User 3DLUTs upload via USB (up to 32)
* All waves(RGB、YUV、Y)
* Vector
* Histogram (RGB1、RGB2、Y)
* Focus Assist (Red, Green, Blue three colors optional highlight over parts of the image in focus)
* False Colors
* Over Exposure (10-100)
* Under Scan, Over Scan
* Anamorphic Mode (1.33X, 1.6X, 2.0X, 2.0X MAG, User)
* Pixel to Pixel
*Center Marker
* Safety Marker (80%, 85%, 90%, 93%, 96%, 2.35:1)
* Ratio Marker ( 4:3、13:9、14:9、15:9、16:9、1.85:1、2.35:1)
* Image Freeze
* Selectable Color Temperature Presets
Standard Accessories:
1× Power Adapter
1× SDI Cable
1× Mini HDMI Cable
2× V-mount Battery Plate (default to mount on device)
1× User Manual Manual